Tweet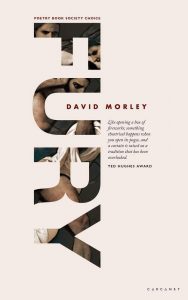 In this latest collection of poems, David Morley, prize-winning poet and Professor of Creative Writing at Warwick University, puts his versatile lyrical toolkit on display. Sustaining his interest in the Romany gypsy community, its mythology and folklore—subjects of his previous Poetry Book Society Recommendation and Choice books, The Invisible Kings and The Gypsy and the Poet—Morley takes readers on a journey of understanding that is unfamiliar to most. Opening with 'First Lyrebird' the first of seven lyrebird poems around which Fury is constructed, Morley invites readers into this world and to his poetic style.
Morley's mastery of poetics comes into full effect as he introduces more and more Romany words in his poems. 'After the Burial of the Gypsy Matriarch' launches the reader headfirst into a litany of Romany phrases and refrains, working them sonically with English. The rhythmic quality coupled with the Romany words gives this and other pieces in Fury a mythical quality, which mimics the rich and deep-rooted history of Gypsy people:
Her lurcher is nashaval from the kàmpo in mirnomos.
Her raklo shuffles her bànka, palms them out in mirnomos.
The zhukûl peers and peers from the wûsh in mirnomos.
Later in the collection some poems are written entirely in Romany, and although there is a glossary at the bottom of each poem the reader is left revelling in the pure lyricism of the language. It also becomes —at least it did for me—an exercise in tracing and connecting various linguistic heritages and relationships. For example, the Romany word for 'night', 'ryat', is not too dissimilar to the 'raat' in Urdu which also means night. It is the same for 'sovnà meaning 'gold' ('sona' in Urdu) and doonyàs meaning 'world' ('dunya' in Urdu).
These moments make Fury more than the sum of its parts. In addition to the carefully crafted rhythms and rhyme schemes, Morley connects us simultaneously to the past and the present, to our world and the natural world. An ecologist and naturalist, David Morley's attention to the natural world is particular and more acute than most. Aided by Romany, which adds texture, rhythm and lyrical diction to his naturist imagery, 'She Is Leaf-Like and Bird-Like' is exemplary, resulting in rendering the natural setting of Gypsy travellers as mythical and fantastical:
Tàmna trees are kited and tailed
by milwares partins in pell-mell

that stretch their necks on stalks
shelo-snapping before spinning

lighting the fields with linnets strewn and drawn in murmuration […]
The title poem in this book resonated most with me. Named after the Gypsy heavyweight boxing world champion, Tyson Fury, Morley sourced interviews given by the boxer to write from his perspective. 'Fury' is almost confessional in its delivery as the reader learns of champion's lifestyle, Romany heritage, his mentality and when that same mentality is at its most fragile. Morley using Fury's voice brings an intensity of brutality and ferocity:
I'm the Master of it all.
When I go in there, I'm trying
to put my first through the back
of his head. To break his ribs,
make them sob out the other side.
Later this is juxtaposed with stark and shocking insights into a mind that seems so strong in the ring. Fury's well documented battle with depression takes the invincibility of a champion and humanises it:
I was bombing up the motorway
got the beast up to 190mph
heading smack towards a bridge
I heard a voice crying
your kids, your family,
your sons and daughter
growing up without their dad.
David Morley's Fury is an exhibition of poetic prowess and skilful storytelling that extends his interests in the legacy of Gypsy people from his previous collections. Readers can expect to be treated to a force of nature in poetics, linguistic dexterity and storytelling.