Tweet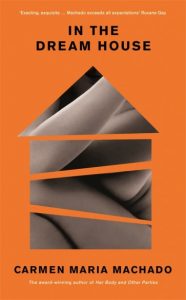 Carmen Maria Machado's debut collection of short stories, Her Body and Other Parties, an inventive mining of the darker side of folk and fairy tales, was hailed in 2018 as one of 15 books by women 'shaping the way we read and write fiction in the 21st century.'
Her memoir, In the Dream House, offers a cis-gender lesbian relationship of domestic abuse. During the heady, hopeful vision of second-wave feminism, women's relationships, sexual or otherwise, were imagined to be free of the complications of hetero-normative partnerships; we were (and are) supposed to know―and to be—better. Add to this the invisibility of lesbian relationships in history and the hidden nature of coercive control, and the pathos of a double silencing and is clear to see.
The all-enveloping and exclusive nature of Machado's relationship with her then girlfriend, whether in love, sexual pleasure, companionship―or in the sheer terror of psychological abuse—is, in Machado's rendering, supercharged. Desire, pleasure and pain are tightly knotted with control, hate and fear. But these struggles of love and war are ones that plague all relationships (queer or straight) even if our experience of them are mostly in a minor key; thus Machado observes drily, 'Even if the dominant culture considers you an anomaly, that doesn't mean you can't be common, common as fucking dirt'.  Recurring situations testify to abuse, and the question of escape is tackled in Machado's pointed Alice-in-Wonderland-like metaphor: 'I am trying and trying… as I fail, I shrink. I shrink down into dirt, woods and worms.'
Alive to the problems of  accumulative and reiterative imprisonment, attempts at flight and then a reeling back―a kind of Freudian fort/da repetition compulsion—the book's formal inventiveness sets it apart from being simply an account of abuse (if such psychological violence can be simple). Dream House comprises a string textual fragments of varying lengths, each one captioned by a title: Dream House as Musical… as Noir, Road Trip, Murder Mystery, as Bluebeard, as ambiguity, as unreliable narrator and so on. Such headings enable a tension between a reading based on a shared cultural lens—high and/or popular—and an individualised response. The permutations on a central matrix—that very old story of abuse―allows us to makes sense of it in its very narration: to find a language 'something for which you have no language' ('Dream House as Exercise in Style'). Machado's sustained referencing of Stith Thompson's Motif-Index of Folk Literature, for example, the breaking of taboos, types of ghosts, omen (etc), allows distance on an unbearable story. That the lover is simply 'she' also enables Dream House to heighten its fabular dimensions.
The memoir can be metafictional playful too. Witness the traps for readers who would, wrung out and at the end of their emotional tether, simply like to turn the page. In 'Dream House as Chose Your Own Adventure', they are given a set of instructions to follow that could speed the story on, or retard it. Simply ignoring those constraints merits a chastisement: 'You shouldn't be on this page. There's no way to get here from the choices given to you. You flipped here because you got sick of the cycle… Go to page 198′. And there is the sly double bluff of a stressed, younger self explaining her innovative play with fragmentation': 'You say "Telling stories in just one way misses the point of stories." You can't bring yourself to say… I broke the stories down because I was breaking down and didn't know what else to do.' The second person, used initially to address Machado's past younger self and then the reader, is strikingly effective. And all the while there are moments of beauty too, for example, in her account of a dawn locked in the bathroom on the other side of the door of her abusive lover.
Despite its formal inventiveness, In the Dream House is not a pleasurable read; to stay to the end is to come away emotionally exhausted and battered. Reading becomes a fort/da experience too. Yet life is not a bed of roses; literature can't simply be about dreamy stories. This compelling memoir makes you sit up and take note.