Tweet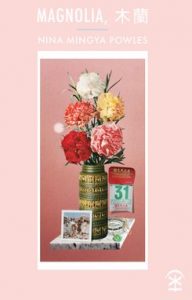 Nina Mingya Powles' invigorating first full poetry collection is not called just Magnolia. The Chinese characters 木蘭 that complete the title – transliterated as 'mulan' – are an important clue as to the nature of her work, suffused as it is with layers of meaning across different languages. Born in 1993, in New Zealand, of mixed Malaysian-Chinese heritage, Magnolia, 木蘭, documents a period Powles spent studying language in Shanghai. It is a wonderful evocation of that city; it is also a search for self in relation to her cultural heritage, and an exploration of language itself.
The opening poem 'Girl Warrior' recalls the effect of watching Disney's Mulan in Chinese while growing up, and Powles' work is vibrant with modern cultural references. Poems referring to Blade Runner 2049 and the animations of Miyazaki sit alongside lyric reflections on the paintings of Agnes Martin, and verse 'after' writers such as Annie Dillard.
Powles clearly delights in finding poetry in all aspects of the world around her. This is particularly evident in her frequent descriptions of food. It is no surprise that Powles has also written a food memoir, Tiny Moons: A Year of Eating in Shanghai. In Magnolia, 木蘭, food is a form of memory as she recalls her mother cutting persimmons; language then tranforms it, the Chinese word for persimmon recalling the word for lion, the fruit, now 'like a tiny roaring sun'. Her descriptions – 'plump yolk[s]' of duck eggs '…a row of suns on low mountaintops,' – not only make the mouth water, but add to a clear sense of being alive in Shanghai.
Chinese characters are interspersed with the English in many of the poems. Some are translated, some not, and this gives, at times, an otherworldliness, as the reader, too, becomes immersed in the mysteries of new language. In 'Black Vinegar Blood' we discover that to say a particular word '…you have to push air through your teeth / touching slightly the start of a tsunami.' Some Chinese characters 'make sense', such as the one for wave 'being made of "skin" and "water"'. But even as the joys of different languages are conjured up, and there are references to Hakka and Maori as well as Mandarin, there is a melancholy sense of what may have been lost in trying to exist between these languages. In 'Mother Tongue' when one voice says 'I wake to the sound of'; a second interjects 'what if my mother never left this place'.
Without much in the way of traditional verse, Powles blurs the boundaries between poem, prose-poem and essay. In fact, much of the joy in reading Magnolia, 木蘭 comes from this visually pleasing hotchpotch of forms, as neat, squares of text sit next to scattered fragments of description, and meaningful white space. Poems 'in two voices', are two columns, and can be read either each 'voice' separate, or in turn, as a kind of call and answer. 'Falling City,' about Shanghai writer Eileen Chang, is a series of numbered, prose vignettes, each like a little postcard from different points in Shanghai's geography and history.
The lovely sequence of eight 'Field Notes on a Downpour' combines the best of all this. Where the first line explores the Chinese characters that make up her mother's name, the last line shows the poet still struggling to makes sense of her heritage: 'Maybe there is a word for this. I knew it once.' Tucked in between are gorgeous, sensuous moments: seeing a honey pomelo sliced open, ripe watermelons 'everywhere, tumbling out of fruit shops', and perhaps the most arresting image of the collection:
 … I smashed a glass jar of honey on the kitchen floor.
The glass broke but the honey held its shards together, collapsing slowly.
Magnolia, 木蘭 has been nominated for the Forward Prize's Felix Dennis Award for best first collection. Whether she wins or not, the variety and exuberance on display in this debut, bode very well for Powles' work going forward.