Three pamphlets: Casket (Andy Brown), Below this Level (Kevin Corcoran) and Lake Effect (Tim Craven)
Tweet
Casket
Andy Brown
Shearsman (2019); pbk: £6.50
Below This Level
Kevin Corcoran
Shearsman (2019); pbk: £6.50

Lake Effect
Tim Craven
Tapsalteerie (2019); pbk: £5
Three excellent pamphlets, produced by courageous independent publishers, and it's fair to say there are crossing references, though I will treat them alphabetically. Nonetheless, the booklets are very different creatures. However, when Bruce Smith remarks of Tim Craven's work that 'To read him is to feel the weight of the body, its thereness and imminent vanishing[…] The rituals of traveling or doing makeshift work are prayers', a thread found might be pulled from all three.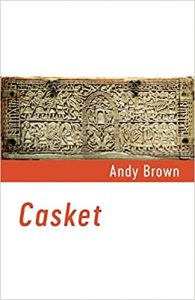 Andy Brown's Casket grows from the poet's study of The Franks Casket, an 8th century Anglo-Saxon chest, now housed in the British Museum. Decorated with runes, Latin text and imagery from various traditions, it is indeed a trove of layered wonders. These poems go much further than direct ekphrasis, and each poem's historical stratification has as much to say about current life patterns on the River Teign's banks, as it does about trapped pasts, fashioned to the 'rhythm of the chisel'. These are ambitious poems, working from immediate typographical examination, to where 'A walk is its own form of glory;' ('Two Brothers') with a scope that can be environmental, cosmic and even nationalistic (this last albeit in a way which perhaps feels slightly strange for a reader north of Hadrian's Wall).
With deft imagery, and suitably-crafted assonance, Brown transports the reader, with sometimes deceptive comforts, between where 'An Anglo-Saxon breaks the frazil ice,' (and what a joy there is in the use of 'frazil' here) to where 'Children shovel coins into the horse races' ('Whalebone'). There is a quality in the way the poet moves back and forward between centuries, which is particularly beautiful and apt both in the context of the examination of an artefact, and also in poem's reflective narrative. 'To reach the present day, dig deep'. ('Two Brothers'), and the hope that 'We'll see this besieged homestead/Through til spring' seems far too prescient this autumn. This sequence of poems, like the others considered in this review, are so rich in allusiveness that they cry out for the possible genre-crossing of an artist's book, or other intermedial interpretation. Andy Brown has a fascinating publication history, which happily includes a study of his Shearsman stable-mate, the equally well-published, Kelvin Corcoran.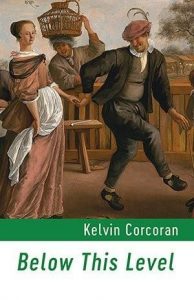 Corcoran's work has an interdisciplinary aspect, including a series of poems written to accompany travelling Arts Council exhibitions, and he has an intriguing track record of collaborations with musicians. Both these facets, and his linguistic interests (he lives in Brussels presently) are fundamental to Below This Level. This far-reaching chapbook 'recounts the experience of prostate cancer: diagnosis, treatment, and recovery', unflinching writing which manages to carry the clinical through the lyrical. Like Christopher Reid in A Scattering, there is a recording of some of the moments that perhaps the poet might not always have wanted to keep, where he lay 'afloat like a baby/held in a net of catheters and lines,' (Oitgang, provisional  ), through to the stark statements of oncologists 'Localised but not metastasised.//We will use all three approaches.// Surgery. Radiography. Hormone treatment.// localised not metastasised.//Repeat after me.' ('RunWalkRun'). Certainly, at no point, was his 'memory removed/by the kind surgeon' ('Surgery') with lasting consequences for the reader!
The starkness of the hospital is also a rich broth of cultures and languages, and Corcoran is the imaginative patient who evokes the drift between so many words and worlds with a rare lucidity.
I think a city stands and corvids wing me to their plan,
if I hold my arms like this and stand like this will I fly?
Melanie I didn't mean to lead you to this dry cave.

('Radiotherapy')
Indeed there are refrains and lists, and many of these poems have an incantatory nature. Some of the most moving lines of all call out to the constant that is his partner, Melanie. Corcoran's final poem 'Singing with Chagall' not only captures the essence of the painter, but it is opulent with allusions and, thankfully, with good news, resultant gratitude and hope.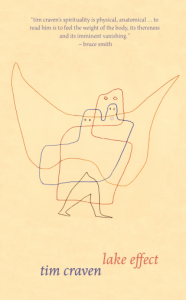 Fittingly, Tapsalteerie's Tim Craven's Lake Effect opens on a medical note with 'Neuroanatomy Practical':
In ten years' time you will think
what a privilege to hold that brain,
brim-filled with tomato soup recipes and original sin[.]
Though a collection of spiritual questing, it is well-grounded in the visceral. With the deftness of Sue Black, the forensic anthropologist, the poet is unafraid to find humour in the most morbid of situations, and never loses respect for the corporeal. Here, in the burning of a beloved pet:
I placed him in his basket,
wrapped in a bedsheet,
with his favourite felt squirrel,

its wooden entrails gnawed out,
and his rubber toys
with their burst squeaks.

('Ceremony')
Even for that lost dog, the poem closes with whispers of Golding. However, these are also very much the poems of life, strong in addressing the physicality of extremes on a mountain, or a desert where ' Fists of wind unhinged us. '('Gobi'). That tangible connects closely with the intangible, and in that same poem we feel how a 'prehistoric presence/ shifts beneath the fluid ground.'
Closer to home, the temple veil between those two provinces might be as close as a cheap shower curtain 'pound-shop provenance/evidence of just how far I haven't come.' ('Sabbath'). A pulse of internal rhyme propels these poems, and a well-controlled alliterative hit provides a reined-in punctuation which snaps into the underlying questioning of these poems. So many last lines have a weight and an implication which renders the final full stop almost superfluous.
All three searching, deep, yet accessible pamphlets go far beyond what their outward scale might suggest. These are tough times in the Arts, and small poetry publishers were already suffering before the vicious jackboots of COVID-19 stomped in. A total of £18 would pay for all three of these well-designed chapbooks. All will give many hours of unpicking and layered re-reading. You have presents to give and extra hours where certain usual activities are unavailable? I suggest you buy them all.