Tweet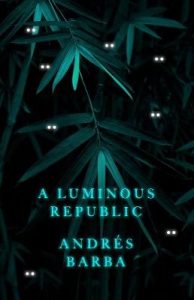 Pedophobia – the excessive fear of children – is a staple within the horror genre, unsettling and interrogating our primal instinct towards nurturing the young. There's the sadistic son in Lionel Shriver's We Need to Talk about Kevin, the adolescent cult in Stephen King's Children of the Corn, or the tribal warfare of stranded schoolboys in William Golding's seminal Lord of the Flies. Central to these stories is that they seldom concern childhood at all. Instead, fear runs amuck when children attempt to emulate the adult world, their juvenile minds holding up a warped mirror to our most depraved behaviour. They are the corruption that comes with adulthood, a site of unconditional love turned evil.
And so it is with A Luminous Republic, the twelfth novel from award-winning Spanish writer Andrés Barba. In this darkly compelling work, translated by Lisa Dillman, an unnamed civil servant arrives in the parochial Spanish town of San Cristóbal to take up post in the Department of Social Affairs. As he integrates into the local community, a strange group of children arrive in town – all of whom are dirty, speak a mysterious language, and appear to be homeless. No one knows where they came from and few pay them any attention – until they begin to intimidate and inflict criminal acts on the townspeople. Soon the child gang, nicknamed 'the thirty-two', propel this quiet Spanish backwater into chaos and the adults take drastic action, forcing these children to suffer grown-up punishments for their deeds.
The central events of this brief novella are recalled in retrospect by the narrator, allowing him to cite from an assortment of newspaper articles, documentaries and books on the subject, and at times giving him the air of a sociology professor in his detached descriptions of horrific events. There's a numbness to the prose that bears the hallmarks of someone sifting through the archives of the past rather than existing in their immediate reality, a passive observer who digresses from his bleak tale with intellectualised ruminations on his subject's psychological motivations. At times these digressions reveal universal truths, and at others they slow the plot to a halt or replace ambiguity with on-the-nose social commentary, as in this passage:
The world of childhood was crushing us with its preconceived notions, which is why a large part of the irritation people felt for the thirty-two had less to do with whether it was natural for children to have perpetrated an act of violence than it did with the rage triggered by the fact that those very children had not confirmed their sugar-coated stereotypes of childhood.
Such control and intellectual distance regularly allows Barba to craft short sentences in the manner of Kurt Vonnegut, paring down complex notions of family and community into sharp and perceptive prose. As a graduate of philosophy, Barba leaves no stone unturned in the quest to fathom the psyche of his creations, a trait which exhibits a perceptiveness towards the human condition yet makes his characters feel like examples of a psychological type rather than fully fleshed out human beings. And yet the quality of the narrative's structure allows Barba to turn these potential weaknesses into strengths. That detachment remains when the true horror of the tale is revealed, but illustrates a central character whose compulsion towards intellectualising his actions creates a buffer from their horrible reality.
While a novel of ideas like A Luminous Republic makes it almost inevitably diffuse, this lurid combination of horror and philosophy adds layers of complexity to the pedophobia sub-genre, steering the proverb 'it takes a village to raise a child' down a distressing and morally fraught path.