Implied (Poetry by Keren McPherson & Images by Scott Anderson)
Tweet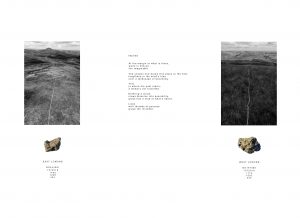 © Scott Anderson
© Keren Macpherson
Image and poem first appeared in the exhibition, Shoulder to Shoulder, Higgins Art Gallery, Cape Cod Community College. You can hear both Anderson and Macpherson talking about their work HERE.
Scott Anderson received his MFA from the Edinburgh College of Art in 1999 and has been a professor of art and design at Cape Cod Community College in Massachusetts since 2004. His passion for long distance running and mountaineering have defined his practice as a visual artist.
Keren Macpherson trained as an artist at Edinburgh College of Art, painting and teaching art after graduation. She completed an MLitt in Writing Practice and Study at the University of Dundee University in 2015. Keren has had several poems published – most recently in Scotia Extremis (Luath Press, 2019). She lives in Fife, Scotland, and also runs regularly.