Sometimes I Never Suffered
Tweet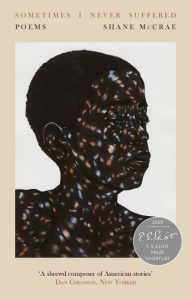 If we must die, let it not be like hogs
Hunted and penned in an inglorious spot,
While round us bark the mad and hungry dogs,
Making their mock at our accursèd lot.
('If We Must Die' by Claude Mackay)
Shane McCrae's latest TS Eliot shortlisted collection, Sometimes I Never Suffered, isn't a sound-mirror for the earlier formalism of Mackay but it does offer a poetic that explores the language of black enslavement set within a Miltonic-style landscape. It addresses questions relating to personal narratives, real and imaginary experiences, and how best to represent them in ways that are all the more real for being rhetorical.
I've been a long time dead without my life
And when it comes back it comes back to me
In parts and sometimes I get two or three
Or I don't know how many fif-

teen forty of the same part like I lived
The same life sixty different ways I'll see
My face and it's my same face and I'll be
Standing where I remember standing once […]
Arranged over 4 sections, the collection opens with 'Jim Limber in Heaven Is a Nexus at Which the Many Heavens of the Multiverse Converge' setting into motion McCrae's journey through this dream-narrative. It combines dictions, dislocated phrasings, repetitions, word spacings, metres imported from the anglophone canon with the dialectal language of his native homeland. The genesis begins,
As they were hammer-
ing him together as they hammered him to-
gether […]

('At The Beginning of The World')
develops into
The hastily assembled angel flies
With patchwork wings red patches and white patches
And yellow patches blood and emptiness [,]

('The Wings of the Hastily assembled Angel')
and later still
He watched the humans as they bowed to the gods
He watched them like a small child watching dancers
Forgetting his own body bowing as they bow [.]

('What it Means To Be Made In The Image Of')
Jim Limber as a 'hastily assembled angel' forges an idea at the beginning of a project, which then passes through multiple versions of an imagined Heaven on a journey of self-realisation. Only Jim Limber is more than an idea: he was a real live boy of mixed race who, caught in the middle of the American Civil War (1861-65), was taken in by Varina Davis, wife of Confederate President, Jefferson Davis, before being captured by the Yankees and disappearing from public record. This imagined rite of passage gives Jim back what should always have been his.
Heaven is full of white folks but they got
These glasses on that they don't know they're glass-
es they don't know they're wearing […]

('Jim Limber Sees People Get The Heaven They Want')
Poems with spaces are mindful of Emily Dickinson, prototyping the use of single and double dashes instead of other forms of punctuation from which this collection is entirely devoid:
and in the waking world the singing
Of the animals woke him from his dream and slowly
He opened first one eye and then the other
Sat up and rubbed his eyes then stood and seeing his
dream in
The life on the rung he stepped from the rung to Heaven [.]

('The Ladder to Heaven')
Spaces that in addition to affording opportunities to breathe, think, reconsider also suggest what is missing; the fractured and fragmentary nature of human experience opening as crevasses on the page that separate and partition as well as articulate sense and meaning.
A sublime work of performative art.