Tweet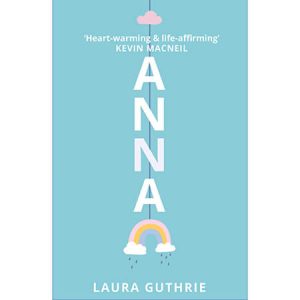 When I lived in London my dad and I had a game about being happy. We called it the Happy Game … I nearly stopped playing the game for a while … but then I thought, well, happiness really doesn't count for much if it only depends on good things happening to us, does it?
Laura Guthrie's debut Young Adult novel, Anna, is set in Scotland after the teenage protagonist's relocation following the death of her father, but offers no tartan and bluebells image of contemporary Scottish life. Instead, it reminded me of Gail Honeyman's Eleanor Oliphant is Completely Fine in its ability to see the world through the eyes of an autistic protagonist whose literal interpretation of the world leads to acts of kindness from those whose paths she crosses. Thirteen-year old Anna is scared and confused: she relies heavily on coping mechanisms taught by her father and outreach workers. Her key strategy is to play the 'Happy Game' in an attempt to remain optimistic in the midst of misery and loss as she heads north to live with her estranged mother.
Anna was diagnosed with Asperger's syndrome when she was four years old. She and her father spent nine years afterwards trying to understand and develop ways to help Anna deal with the world's social challenges; not least the bullying she faced at school. Anna hangs on to her father's words through his reassuring texts and phone messages in the aftermath of his death, but having her father's voice on mobile was 'like getting a new doll when you thought you were getting a little brother or sister.'
Guthrie uses age-appropriate synonyms and metaphors which perfectly fit the contexts and while the subject matter may be heavy at times, the language is beautifully simple and effective throughout: 'she only has the phone because she had it in her hand when she jumped out of the window after dialing 999.' Told in the first person, the reader is brought directly into Anna's way of seeing the world, including her curious fear of her near neighbour who threatens to 'skin her alive'. Anna takes this literally and when she is later told that he has 'skeletons in his cupboard' he becomes 'Skeleton Man.'
The closer Anna inches towards her mother, the more her memory of her father is tarnished and Anna becomes hopelessly conflicted: 'conversation with mum felt like blisters on a burn' and the metaphor of feeling a 'hot poker through her chest' is used more than once in Anna's efforts to describe the bewilderment and hurt she is experiencing. This culminates in a frightening moment where all the coping strategies in the world cannot help and Anna feels she is losing every bit of care that her father had shown:
[…] the full force of all I had lost with him met with my sense of what mum was failing to give me – and all hope I had for how things would be. It was like two opposing winds meeting each other and forming a tornado strong enough to destroy everything in its path.
Guthrie skillfully weaves Anna's artistic and musical skills into the narrative, building bridges with people through her appreciation of music, including Schubert's Trout Quintet and Chopin's Nocturnal. In other descriptions, she refers to Edgar Allen Poe, Seamus Heaney and Dorothy's house in Kansas.
'Skeleton Man', her young friend Jamie, mum's housekeeper Molly, local doctor Ben, next-door neighbour Mrs No and the minister and his wife are all important members of the supporting cast that help this young lady come to terms with life, death and all that can happen in between. The story reaches a wholly unexpected conclusion, expressed through a letter from Anna to her friends. Religious influence plays a part in her healing process but overall this is a profoundly human story of loss, resilience and love, which is deeply moving and a beacon of hope in these rather bleak times.