Tweet
Matt Haig
(Canongate, 2020); hbk, £11.89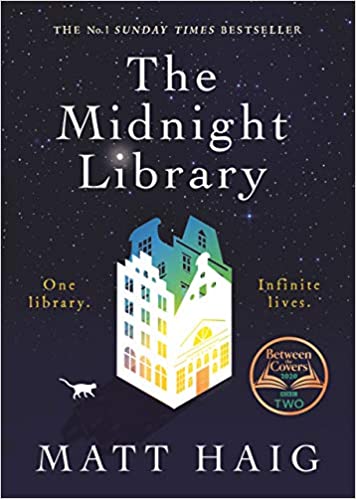 "Between life and death there is a library […] And within that library, the shelves go on for ever. Every book provides a chance to try another life you could have lived. To see how things would be different if you had made other choices."
With this concept, Matt Haig successfully creates a fantastical novel centring on depression, suicide, hope, and regret. 
The Midnight Library focuses on the life of Nora Seed, a 35-year-old woman whose life appears to be without meaning or love. A life of regrets. After losing what little she feels she has left, Nora decides that life is no longer for her. Instead of dying, she finds herself in an in-between world – a place that is neither life nor death. Here, Nora is presented with the Midnight Library along with the opportunity to change every choice she's ever made. 
The reader follows Nora as she explores some of the infinite lives she could have lived. She becomes a rock star, a wife, an Olympic swimmer, a mother, and a glaciologist – to name but a few. 
The Midnight Library is the perfect introduction to the world of speculative fiction for readers new to this genre. While the novel balances between fantasy and science fiction, its main focal points remain surprisingly down-to-earth. We all have regrets – chances we wish we had taken – and The Midnight Library explores this common human desire.
The novel is reminiscent of cinematic classics such as It's a Wonderful Life and Groundhog Day. Like Groundhog Day, it uses a supernatural concept to explore the human psychology of its protagonist but while Groundhog Day follows a narcissistic and dissatisfied man, The Midnight Library focuses on a depressed and regretful woman. The reader is required to spend a substantial amount of time inside the protagonist's head, but Nora remains a pleasant companion, full of compassion, love and philosophical thoughts throughout.
'Go confidently in the direction of your dreams,' Thoreau had said. 'Live the life you've imagined.'
The Midnight Library deals with heavy themes such as depression and suicide, but it does so with a message of hope and love. I would, however, include a warning to anyone for whom these topics may be triggering.
Thankfully, the author treats these emotive issues with the respect that they deserve, which may be a result of his personal experiences. Haig has been admirably open and honest about his own former depression and suicidal thoughts – at the age of twenty-four, he intended to throw himself over a cliff edge. Instead, he – like Nora – ultimately chose to live. He has since written his best-selling non-fiction book How to Stay Alive, and The Midnight Library is in many ways a fictional re-telling of the same message – that there is always a reason to stay alive.
She [Nora] didn't need a vineyard or a Californian sunset to be happy. She didn't even need a large house and the perfect family. She just needed potential. And she was nothing if not potential. 
Despite the heavy subject matter, The Midnight Library is not an arduous read. I found myself engrossed in this story that mirrored the desire that I, like many others, have often felt – the wish to be able to undo my own mistakes.
Haig successfully explores this aspect of our human psyche without compromising the quality of the story itself, making The Midnight Library both a fascinating exploration of human nature, a celebration of life, and a very good story.
Maria Sjöstrand