Lessons in Love and Other Crimes
Tweet
Elizabeth Chakrabarty
(The Indigo Press, 2021); pbk, £10.99
The ethnic minority characters will be in the foreground: the victim; people who care about her, and that she cares about too, like a best friend, a parent figure, and perhaps siblings' and the love interest?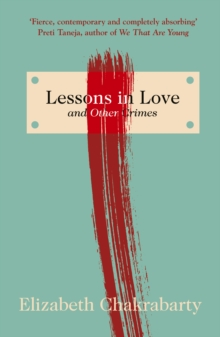 Elizabeth Chakrabarty's first novel, Lessons in Love and Other Crimes takes the reader on a journey of racial hate crimes, through various lenses and differing angles. A surprising combination of charming romance and tense criminal investigation to narrow down a predator, these two genres put into play by Chakrabarty have a somewhat abrasive relationship with each other throughout the text, but their opposing forces are a perfect pairing.
To walk with Tesya for a day, is to experience for a split second how it might feel to live as an ethnic minority, in a society where racial injustices are recurrent and persistent. Tesya, the protagonist, witnesses a continuous series of racially motivated attacks whilst she navigates her work and love life, in the bustling city of London. She relies greatly on her closest relationships – a best friend, a foster mother, and an unavailable girlfriend. Reality within and without are blurred in this auto-fictive account.
Tesya's reality as someone from an ethnic minority is excruciatingly close to home for the author. The truth of Tesya's experiences are explicated by the author's notes – a recurring element throughout the novel; 'Yes, all of this happened to me while working in the UK', Chakrabarty writes. In the complicated world we are presented with, notes left by the author are anchors of sincerity we depend on.
It doesn't make it easier to face, but if we could understand more about how racism works, it might be easier to combat – is what I think when I'm optimistic. Now, with this character, I'm not sure; I feel more pessimistic. Perhaps it's this era […]
Although we hope, but aren't told if there was a reassuring authority figure for Chakrabarty, there is a distinct comfort in the moments we see Tesya supported by ber mother figure, her closest friend, and her love interest. Interspersed in the tales of woe, deceit, and unjust hardship, are events of typical, every-day life: how to control jealousy, amend arguments, and more importantly how to show love.
Love is accepting that others have their own private thoughts and worlds. We all need space to explore and dream, then we return to our friends and family, replenished with love.
Lessons in Love and Other Crimes develops over sixteen chapters, each one a lesson. The novel switches between moments of time, featured as 'now' and 'then', and the perspectives of two different narrators – one we trust, and one more devious and distasteful.
The sequence of the text, the exploration of crucial themes, and the development of each character's composition all work together to consolidate Chakrabarty's brilliance. The depiction of the predator is disturbingly vivid; you will struggle to calm your heart, and perhaps you shouldn't. Chakrabarty is acute and articulate on the effects of growing up with racism: anxiety, isolation, illogical feelings of shame, and an unrelenting confusion and sense of distrust. Retribution takes place just in time for Tesya – a reality dissimilar to Chakrabarty's.
Incorporating a criminal inquiry and a love story, this piece of fiction illuminates pressing topics to be deeply concerned with. Lessons in Love and Other Crimes highlights the frequency of racism in order to portray a future to focus on: 'one where racist crime gets solved', and love, comfort, and reassurance are accessible to all.
Mhari Aitchison