It Ain't Over Till… by Andrew Forbes
Tweet
MLITT, WRITING PRACTICE AND STUDY 2019-21 SHOWCASE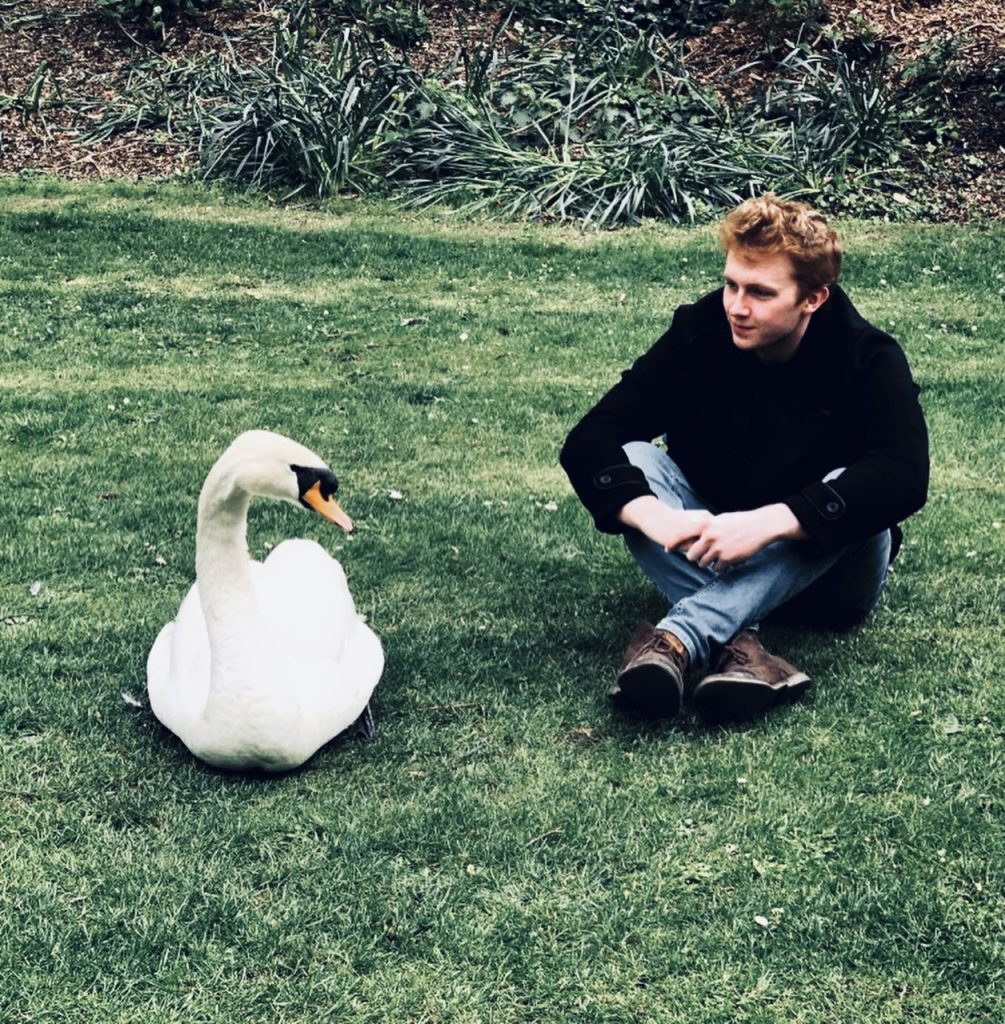 A small crowd consisting mostly of students sit around the wooden table. Some of them have grown rowdier with each swall sank and there have been a fair few swalls sank by now. I had wanted some time alone before having to join them. I've been standing by this green stove for the past ten minutes, toasting my spuds. It had to be done, though. This is the only space in the dark, damp room where I can make sense of my own thoughts. The Holy lands are never a holy place for one to be. The Fat Lady sat over there is looking like she has grown uncomfortable in her dim awareness of my prolonged absence from necking those leaping drinks. Here she goes. She calls me out in her own special way.
'Ey der lad, will ye come an' join is! Der ain't no laps in this here gaff of mine. Awk nah. Are ye a man or a mah-ouse?'
So it begins.
There's a swivelling of mainly bloated bodies on the small chairs. A sea of seething bloodshot eyes form together and search for the lapper. I knew someone would call me out for my period of introversion. I know wha ta be at. I raise my glass in the direction of the sea and chop a double measure of Black Bush. The sea stirs. Hearty laughter and ecstatic calls of yer a good lad wash away the bubbling tension. I bow gracefully, the conductor basking in his audiences praise. A chair is pushed out for me. I saunter across from the stove and slap my smug arse on it. The blocked members of the table welcome me to my king's chair with warm pats on the back and fight in good spirits to shake my hand. The half cut members decide to keep their heads stooped over their stitchers, using the interruption in table dynamic to catch up with the drunker wastrels at the table.
Ah. The tone for the evening has been set. Swall and be adored. It isn't hard to do lak. I realise it would be daft to expect any engaging conversation when shaking hands with them and taking in their carnivalesque facial expressions. That's grand with me. I didn't come to this craic den in search of something meaningful. I just want to stop thinking about her and to become acquainted with some of Brunt's new mates from the warehouse. Brunt must be lonely. This lot strike me as being nothing but a bunch of reprobates. I must get on with them, though. It its important to Brunt, then it's important to me. Time to win over their favour. I'll swall and chat shite just lak em. A few swalls of whiskey and they'll be at my feet. A few swalls of whiskey and she'll seem irrelevant and the night can be had for all that it most likely won't offer me. It'll be essential to last out the drinking games. The last one standing earns the respect of all other participants. It'll make them warm to me and that'll make Brunt happy. I'll forget all about her. Yes! I'll make sure to fill my dear friend up with the purest joy. By dawnsnew light these bunch of reprobates will know Jaunty O'Finn is no mere lightweight! I can already hear their voices slurring my praises to the high heavens… Jaunty! O Jaunty! The Mighty O'Finn! The charming scoundrel who could outdrink the Gods! That's not exactly how they would say it, though.
'Fuck. Christ da night,' they would say to their friends, 'We here met some top lad ta ottur nite at this here wee gatherin' we was havin' who maked his Bush into watur, never mind yer five quid stitchers! No sweat about it like.' And my reputation would be Titanic.
Steady now. I don't want to get tangled up in my alternate drinking ego. The Mighty O'Finn can be a diabolical chap, whenever he's granted the freedom to reign. Be a gentlemawn. Don't make your drinking into a competition like you usually do. After all, a man can be judged based on those whom he associates himself with. Any bad manners might reflect poorly on Brunt. Be lively, but not cantankerous. Aye, that's the plan. O! And member ta keep yer voice, lad! It's time to instigate the proper drinking. I hop up on top of my chair and bellow out a war cry.
EYAAAA.
The room erupts in anticipation. I neck another whiskey and it's received by rapturous applause. One of the big lads at the table takes my lead. He pours a round of shots into multi-coloured shot glasses, and then sets them down on the table for everyone to neck. The Fat Lady hands one up to me.
Wan, too, thee!
And down the murky shots go. Up into space the war cries are screamed. I sit down. The table sets into chatting all kinds of muck. By the power of my hand, the shots keep on flowing.
Oh aye bai!
Drinking games begin and drinking games end. I encourage uncivil laughs and then they're had.
I forget about her.
No soul would've made the pubs, no fuck. It sure was a good shout to cancel those fooking taxis bais. The table is almost empty now. Those lightweights disappeared over the course of the last two hours. At various points they had staggered away from the rowdy table and out into the hall. Marched their way up the sticky staircase, and having finally reached the top, scavenged the upstairs for a quiet space where they could lay comatose for the night. Five of us remain. The Fat Lady is one of them. She lies face down at the end of the table, in a vegetative state. It's grown quiet. I've still got hours left in the tank. This night won't be ending prematurely. Not if The Mighty O'Finn has anything to do with it! I bring my eyes up from the rotting table. I inspect those remaining. Brunt is hunched over in his chair. His head dangles between his legs. He needs some assistance. I raise my hand, prepared to give him a much needed, resuscitating slap. He rocks backwards. Bloodshot eyes roll around in the back of his skull.
'Chrrrist da night! I'm pissed, mate.'
'Awk mate, get yer shit together.'
'Yer bird isn't making you too happy these days. Is she, chief? She just hatez yer gutz. Here and you just love her, don't ya? Bet she smells the swall off you allza time. Ever smelt the lads off her? Eyooo… Here… Reckon its taxi time… I've gotta mattress… sleep on it. Here, you can zleep on it. Let's just get some zlee…'
I should be angry, but his noodle-like posture is cracking me up. And there is some truth in his noodly words. 'Less of that grief, you big glipe. What're you doing? Don't you hunch over that chair again, you scummer. For fuck's sake, mate.'
He's a liability. I'll just rack up another whiskey. There we go. Happy days. Fuck. I can't seem to rely on anyone these days when it comes to heavy drinking. Is that just the alter ego speaking again? Who cares if it is lak! What about those two sat opposite me? They've just been sitting with their backs to that plastered wall, trucking away in quiet. The one to the left is built like a brick shithouse. I think I'll call him The Brickhouse. He's a belt size larger than me. His face is a pulpy square, and there is still a small island of brown hair left on the centre of his mourning head. His eyes are dazed and glazed. He had poured the first round of shots out earlier. The man straight ahead of me is quiet and lean. He has an air of dignity, or is it self-righteousness, about him and looks about ten years older than anyone else who had come to this here gathering. His eyes are dark and intelligent. These two are my last hope. I'll pick them up again. Now activate the amicable charmer in ye!
'Do either of you two gentlemen fancy a nip… I mean, Brunt the bastard scooped this here yoke for us to tear into!'
The Brickhouse didn't even budge there. He must not have heard me. I was aware that you could become blind drunk, but not deaf drunk. The lean and quiet man hasn't moved. He's just sitting there in his chair with an erect posture. Has he croaked? Don't think so. His dark eyes still show signs of intelligence. Then is he acting superior? Or did I not speak their language? I gave it away with the whole amicable charmer act. You dick.
I'll try again. 'Ere lads, yis not fancy a swall? No harm in it like.'
'Aye,' the quiet man says suddenly, with a respectful conviction. So he's keen to drink. I like him. I musta spoke his language der. My imagineetion musta placed the intelligence into his dark eyes. Is it not odd for someone his age to be at this gathering? Wonder what brought him here… Actually, who really cares? Not me. Certainly nat. By fuck I do!
I steady my hand and pour into his glass. The whiskey tipples out nice and smooth. What's he staring at over there? I stop pouring to check it out. The Fat Lady is twitching. She starts to rise, surprisingly sharply, and is moving toward me with the swiftness of a gazelle. Her arms flash like fire and snatch the bottle from my grip. With her head thrown back, and the bottles rim pressed against her wine-stained lips, she goes a glug, a glug, ack glug. The farthest corners of the house are not spared from the sound. The quiet man shakes his head in disgust. Brunt raises his own head, due to the racket. 'She's fucked it,' he murmurs and then hiccups. The Fat Lady stumbles backwards, tries to shuffle her free hand along the wooden table in order to steady herself, fails to do so, but when collapsing back into the chair, somehow still manages to take her seat without toppling over to the ground. A stillness sets within her. Her eyes stare ahead at nothing. She begins to sway left and right. Her tight grip on the bottle loosens. I scream in unison with the tiled floor. Brunt rises to his feet. The noodly bull has just been branded into an alert consciousness.
'Zzpillage is lickage! Best lap up the rest of it, Chelzea. I forked out for that inztead of betting on the horzez!'
The Fat Lady has a name… Eh? Chelsea. Is that not a London name? Does a name like that not have associations with class and honour? Chelsea. A professional football club with a history of success. Chelsea. A posh belle pondering what high end shopping she might do to distract from her weekend boredom. Chelsea. The heifer that has just drained the last of our whiskey in this here tragic Holy lands gathering. It doesn't make sense. Chelsea tries to reply to Brunt. Words are caught behind her wine-tainted lips. Her head drops to the table. 'Don't tell me that's our swall done,' spits the re-energised, and seemingly slur-cured, Brunt. I don't get to respond. A vicious gargling fills my ears. It becomes louder and louder, whirling around in the back of Chelsea's blender of a throat. Is she choking on her tongue? 'Scope her,' the quiet man asserts. 'Aye,' agrees The Brickhouse, who has regained his hearing. Brunt softens with concern. He legs it across to Chelsea and cups her cheeks in his hands, shaking her lightly, and asking if she's sweet like. Chelsea's eyes shoot wide open. A violent projectile flies from her lips. It's sent with force and a devastating direction. Brunt has been left in no mans land. SPLASH. The smell of whitey mixes with the damp and spirited odour of the room. Chelsea wobbles on the edge of her chair, attempting to move forward and apologise to him. His shirt is drenched in bile.
Creak, creak, aaand creak. O shite! The chair comes crashing down. The quiet man loses composure and starts shrieking like a hyena, with both arms doubled down on the table, and his baldhead reverberating back and forth like a just used springboard. 'Tha's fucking special,' says The Brickhouse, as he bursts into hysterical laughter. I leap up to my feet and start pounding my clenched fists against the table like a deranged baboon. The Brickhouse copies my action and together we chant like two cavemen. Brunt, who had been stood frozen in his disbelief, experiences a sudden transformation from his state of being pure raging into possessing a manic energy. He pulls off his stinking shirt, scrubs his bake clean with the inside of it, and then launches the leaping thing far across the room. Then he joins us at the table and the chanting begins to build. Even the quiet man can't help himself from joining in for the cracking crescendo. It shakes our glasses on the table and has most likely momentarily shaken those sleeping upstairs from their steaming slumber.
The chanting is drawn to a close. Silence… The height of the night has been reached and we all know it. There is hollowness in this shared realisation. I take a step back from the table and peer down at Chelsea. She lies with her face to the ceiling, in the rotten pool of whiskey and sick, with fragments of broken glass caught in her lumpy strands of gorgeous brunette hair. I feel exceptionally guilty. I pace across to the sink beside the green stove and hastily pour a pint of water from the rusty tap. Brunt begins to think aloud. It becomes clear that his concern has vanished. He is unable to pick up on the change of mood in the room. 'She best fork me out some coin for my swall, and my shirt. It's completely bolloxed!' I turn from the sink, in time to catch The Brickhouse clenching his square jaw. I don't think he is angry at Brunt, but at this shared deflation of spirit. Even still, he has to channel his anger, and this inconsiderate remark has granted him the perfect opportunity to vent. 'Lad, fuck yer fucking whiskey. Just look at the hack of her! Yano what lads, I'm seriously beat. A'll carry Chels upstairs and get her intae bed,' says The Brickhouse. 'Ye dog,' says the quiet man, wiping the laugh residue from his face. 'Aha. Bet she'll tip ma service when she wakes up, just you wait lad. Got te take wha's on offer these days,' The Brickhouse replies, with a shrug of the large shoulders. Brunt and the quiet man's laughter is mixed with an air of understanding. 'That's my cue te leave,' says the quiet man. He stands up slowly, wobbles slightly, and with dignity slides along the plastered wall past the chairs. He strides over Chelsea, tip toes through the pool, and then disappears out into the hall.
I won't forget him anytime soon. Brunt sulks across to his sick soaked shirt lying against the wall at the far corner of the room, and puts it back on with a grimace. The Brickhouse yanks the pint of water from my hand. I raise an eyebrow at him and he ignores it, instead steadying himself to approach the task. Chelsea is roused from her comatose state by his rude prodding. Her eyes have regained focus by the time the sound of the front door closing echoes throughout the dark, and now very damp, room. 'Wherrr am I? Wher's everywan else at?' she blurts. 'Why, they're pastied, ma luv. I'll carry ye upstairs. Ya take some of this watur first,' says The Brickhouse. Chelsea's face toughens with pride. 'Naw, I don't want no watur. I can best carry meself. Gis a hand,' she demands with honour. The Brickhouse places one hand behind her back. He passes me the pint of water and then I watch as his free hand reluctantly slides into her sick covered hand. Up she goes. 'Night, lads,' says The Brickhouse, his brick face flaring. Chelsea composes herself and then leads him out of the room. I track their progress by listening to the stairs creaks. Their footsteps can be heard diverging from one another along the upstairs landing. I feel a sudden change of heart. The Mighty O'Finn is gone. I'm just mighty flat now. Brunt staggers across and takes a seat, stretching out his kebs, and staring up at the flaking ceiling. I sit down beside him, defeated, and start to internally lament.
Not only had we all acted like animals, but we had treated Chelsea like an animal too. I had been caught up in my alternate drinking ego and lost my inner gentlemawn in the process. Yes, Chelsea did break the last whiskey bottle. Yes, she did throw up not only on herself, but also on Brunt. Yes, she absolutely crashed against the floor and pastied. But haven't most people had a night in their lives where they've drunk more than they could handle? Haven't we all disgraced ourselves somewhere along the way? Chelsea had been kind enough to host us. She had turned down The Brickhouses' sleazy advances and even carried herself up to bed, having refused to drink from his glass. Perhaps she had only tried to keep up with us in order to keep an eye on her house. It would make perfect sense. I bet she would be loyal to her man, if she had one. He would be lucky. Christ! This Chelsea has more loyalty than the football club does, with their constant change of manager. And she has more integrity than those posh London belles, who use money to fill the void produced by boredom. Hell! She certainly has more loyalty and integrity than my own girlfriend does. And oh how shite we had treated her! I had labelled her as The Fat Lady. For fuck's sake, how degrading. She has a nice plump body and a beautiful face. That's irrelevant. She has character. The way she conducted herself has moved me. She stands alone, and seems to know that the only person you should try to impress is yourself. I should learn from her about self worth. Aye. That's it! I'll no longer put up with that deceptive girlfriend of mine, who heads out on those two-day benders with those posh rich lads at the weekend. I'm finished with her! Chelsea has opened these grateful eyes. Ders no sweat about it lak.
I need another swall. Just one. It'll help me come to terms with this magnificent realisation. There must be some swall stored away in the cupboards. Chelsea would understand my need for a drink. I get up and trundle across to the green stove, check the cupboards on each side of it. Dusty cans of soup, beans, and mushy peas mock my appetite. I check the cupboard underneath the sink. Fairy liquid. The sweet sound of a beautiful tin cracking open calls the hairs on the back of my neck to attention. My head twists anticlockwise like an owl in the direction of the tongue tickling sound. Brunt is arched back in his chair. His neck rests on his chest as he sips on the battered can of Harp Ice. Did he pull it out from his arse? 'Brunt, my brother… Yer not gonna drink that whole thing, are ya?' 'Mfhm,' he says with a peculiar wink. I think it means I can have some. I take a seat beside him and pour half of it into my glass. Would you believe it? We're the last two standing. My drinking alter ego may be gone, but there's still some pride to take from that. I smile and feel tired. It's about time to leave. Brunt places his arm on my shoulder blade and squints into my eyes.
'Taxi mate… I've a number.' He must've read my mind.
'Pass me your phone.' No need for me to talk der talk anymore…
Brunt fumbles about in his pocket. He passes me the brick of a Nokia and slurs the name of the taxi company. I find it in his contacts. I press the dial.
I must remember to be formal. 'Good morning sir… I'd like to book a taxi to… Brunt, what's the address again?'
'6 Mascara Street.'
'Mascara Street… You pisser! That's not a real address. What's the real address?'
'6 Damascus Street,' he whispers.
'Are you sure about that?
'…' His head has plunked against the table.
'Fuck sake mate… Hello sir. I believe it's for 6 Damascus Street. Yes, Damascus Street. The roundabout? I know of it. Ten minutes? Absolutely. I'll see you then, sir.'
I hang up.
'Brunt, its time to get a move on.'
'…'
'BRUNT!'
'Mfhm. Dunno if I can be arsed walking…'
'You wanta wake up in this here shithole?' I've acquired two voices. Tha've rubb'd aff on me nai, lad. I don't know which one is mine anymore. I'm blocked. Awk aye.
'Fuck sake mate…'
'Let's get her ticking.'
Brunt pisses about for five minutes. I don't blame him. He's certainly been fresher… Finally, he gets up. We slide along the whiskey sick floor and toward the door. Brunt staggers ahead and passes through the banged up front door. I stop to take a last look at the place. It feels good to be leaving. Goodbye, Chelsea. Thank you. Aye, cheers luv. I shut the door behind me with care and screw my eyes when turning to face reality. The first shards of light from a new morning slither through ill kept trees as we float along the hazy streets past the rows and rows of dingy terraces. The sun climbs as we climb the short, but never ending, hill which will bring us in sight of the glorious roundabout. Brunt stops halfway and mumbles Fucking Everest to himself. I pass him without stopping. The roundabout appears at the top of the hill. It feels as though it has miraculously surfaced from nowhere, like a hallucinatory river that's found flourishing in the desert. In the distance, the taxi resembles a huge yellow ticket to bed. We hobble across the road like two zombies. The driver laughs in his seat. Brunt slumps in first and I head to the far side. Sinking into the heavenly seat is the closest I've ever felt to having a religious experience. I summon all my strength to close the door.
'Yis look a sight bais! Yis for Greenisland, lads?'
I shouldn't have been so formal on the phone. 'Had a rowdy one. Aye, lad.'
'Good craic?'
'Aye.'
The taxi yokes away. It speeds onto the roundabout and takes the third exit. It straightens up. Brunt and I sway in our seats. We pass through the Belfast streets in the crisp morning light. The sights bring out the drunken poet in me. Oh aye. The silky city streets soon succumb to smooth motorway and open sea, as our taxi motors on past the crystal waters so blue and fresh and dazzling like a drunken dream. Bless the mornin and bless these here receiving eyes! The serenity of sleep shuts these welcoming lids as they yawn to a close, about to meet a satisfied end.
See ye, swall. See ye, lads. See ye, my soon to be ex-bird….
O….
And yes.
Goodnight, dearest Chelsea. Thank you for your truth and honour, goodnight to ye too…
© Andrew Forbes