Comic Timing (SHORTLISTED; FORWARD PRIZES FOR BEST FIRST COLLECTION)
Tweet
Holly Pester
(Granta Publications, 2021); pbk: £10.99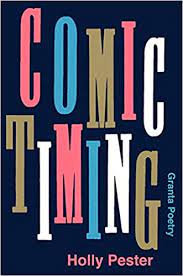 Holly Pester's first collection Comic Timing proves to be a very thought-provoking volume and highly deserving of its shortlisting for the Forward Prize's Best First Collection (2021). Pester creates a deeply personal yet political book as she weaves between the two to gain a sense of self. She tackles a range of serious issues like abortion, her friend's therapy to reflections on her own writing. All of it makes for a whirlwind of her self-reflection, creating what I believe to be a style that makes use of stream of consciousness.
Days develop sideways, I am interested in life. It lives and I remain
interested. But what in the complex droop of life is in my interests? Not
life. Not its interesting weeds.

('Odd Kill')
Pester splits this collection into four acts, presenting the book as a play in itself. Each act is introduced with a title and a short preface for what is to come. Act one, titled 'Heavy in me', starts with Pester looking inwards into the darkness of life but she also plays it with humour. The narrator describes what it was like to go through an abortion as she talks about the art of understanding comic timing in life.
I have seen millions of films
I get it
or there is no story only comedy[.]

('Comic Timing')
The poems in act one are not only some of my favourites ('Historical Bed Scores', 'Comic Timing', and 'Well' to name a few) but the poetry itself reads as a stream of consciousness with Pester rarely breaking stanza form – creating this feeling that the words on the paper have spilt directly from her mind. This presents an interesting contrast as the collection moves through to the different acts. For example, act two is prominently titled 'Time for me to resemble my deep shock' after she ends act one with what it is like to go through an abortion. The first poem in act two, 'Shipbuilding', is scattered across the page, allowing the reader to physically see Pester begin to resemble her 'deep shock', and, as the title ironically suggests, rebuild the ship that Pester has broken down.
For the remainder of the collection, we see Pester not only reflect on her role as a woman and a daughter, but also a writer. Many of the poems will either lightly touch on the idea of writing and poetry or focus fully on them. This gives the collection a sense of self-awareness as if it is trying to find its own meaning. Act two's opening notes this as the narrative reads, 'Being a poet being poet, I am a woman, I am dead, I am ecstatic and a cyclist. You can say any one of those things about yourself and if you do it is an excellent example of timing.' It is from this we can see how Pester's collection transforms into her learning how to cope with life's burdens and the weight of time.
Like the title suggests, time is of the utmost importance for this collection. It weaves itself into everything Pester discusses without the need to hold back. To Pester, poetry and time go hand in hand; one cannot survive without the other.
I am trying to write poetry into my age, the specific time of my body
and the life it does but the age of the planet but that's the point[.]

('Sex with Lodgers')
Overall, the collection works in harmony. Without the progression of the acts, its core theme of the weight of time and Pester's reflections on life's darker moments would not prove as effective. Like any play, each scene functions as a catalyst in its unfolding. By the end, Pester appears to understand herself in her current state of mind, but at the same time knows that she will never fully understand every part of her life.
I feel like a comedy
that's probably a lot of it there
it's still going on[.]

('Comic Timing')
Amy Turnbull