Naked: New and Selected Poems
Tweet
Susan Millar DuMars,
(Salmon Poetry, 2019); pbk: €14.00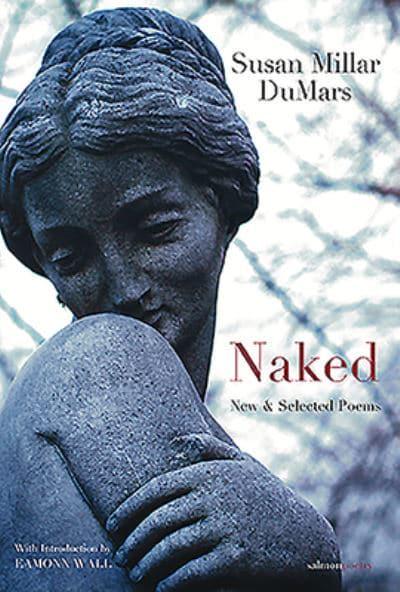 A democratic eye bounces off the page in this collection of poems from Susan Millar DuMars' twenty five years of published writing. She sees love in the quotidian detail, gives voice to women on the edge, notices that which we would pass by and, moreover, she deals with subjects that are normally hidden and forbidden. DuMars is an Irish-American poet, born in Philadelphia, living in Galway. This collection is where Eavan Boland's social commentary meets Anne Sexton's confessional poetry, but with DuMars' own particular honesty, wit and observation. Here is a poet who knows her craft, and is brave with her narrative.
Her opening poem, 'In Bed With Anne Sexton' represents a humorous start in which during a dream, the American poet gives advice to DuMars, 'Honesty equals chaos / Liars are tidy'. The poem goes on to ask for advice,
When I tell the truth
I don't know what will happen.
Help me, Anne
to which the reply is, 'help yourself, honey/Help yourself'. In essence, this poem writes Millar DuMars and her poetic influences as a prologue, and says to the reader, go on and be raw, be yourself and have the power of your own conviction.
We read on and hear Millar DuMars' view of contemporary life, of relationships as sincerely as they can be told, of the humour shared amongst the streets and communities, and within a cocoon of empathy, her arms around the characters and stories with understanding of the human condition that she tells. 'Wobble' is a poem about Maryanne Cobb. She is not nameless, but is given specificity and grace, with this naming. She seems on the edge of a breakdown, her 'house is /a bus see-sawing/on the edge of a stony cliff' and 'her world still teetered'. In plain, unadorned language we understand the desperation.
DuMars writes about loneliness, suicidal thoughts, anxiety within the strong imagery of the everyday, 'a sofa cushion/slipcovered in shiny/seventies pattern'. In 'Finally Warm', we hear of a woman struggling with neurosis 'Inside a tremor/, Inside a shiver', yet , as with most of her poems there is a nicely observed counterpoint, 'Inside her flat, secrets flew circles'. DuMars has a mastery of the final line, ensuring that we have been taken to an edgy, sometimes uncomfortable place, and given lasting hope.
This collection shows the variety within DuMars' vocal range. Turn the page from a poem dealing with mental health, what follows is one of lust and sexuality. In 'Salthill' a narrow poem with three to six syllable lines, haiku-esque, is elegant in form, delicious in its sensuality:
Like the tide
we retreated
and returned.
Your fingers curl
around mine, and press;
sand and water
in dark embrace.
The craft is plain to see in these poems, always a smattering of word repetition, a touch of alliteration, 'sunlight shifts' alongside more contemporary craft of enjambment, internal chimes and rhymes adding musicality to the verse. In 'Phoning Your Mother', we see the extended metaphor of the mother's desperation being compared to a bird trapped indoors:
She is insisting
like a blackbird, beating, beating
frantic tap of beak on glass
Ball of feathered need, heart fast[.]
From uptight nosey neighbours, washing lines and breakfast time, from the wit of the cat nonchalantly reading the newspaper, her pain of childlessness, to poems of lust and desire, we hear a contemporary voice that is worth listening to. Millar DuMars is a poet who understands what it means to be a woman living in this time.
Irene Watson