The Sorry Tale of the Mignonette
Tweet
Angela Gardner
(Shearsman Books, 2021); pbk, £12.95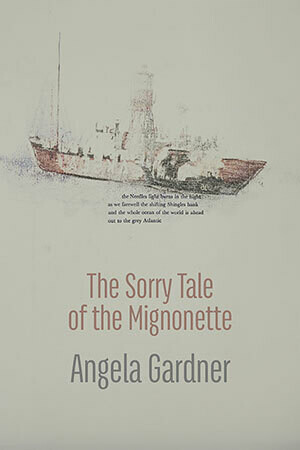 Angela Gardner delivers a theatrical experience with this remarkable verse novel. This powerful true story lays bare one of the most important trials in Seafaring history. Told in five parts, Gardner takes us on an emotional voyage from elation to fear, horror to sorrow, injustice to fate.
Protagonist Richard Parker and his cousin, Sarah, are introduced by an unseen narrator (Gardner). Tight paragraphs of prose provide backstory before we come to know their sensibilities:
RICHARD
I never saw the treasures you saw at school Sarah

I want to sail the open promise of the world
to unfenced miles of silver wheat in waves[.]
We feel Sarah's longing to live a full life:
SARAH
All I know of the world is contained
in a box the school mistress showed us[.]
The plosive 'b' snaps shut the box, underlining Sarah's prospects of ever having the opportunity to be as 'carefree and jaunty' as Richard. Instead, Sarah acts as anchor to the land, to what might have been:
SARAH
And pray God bring Richard home on guiding chains.
Gardner deftly portrays the divide in Victorian Britain, juxtaposing the 'dead-end broken road/strewn with the rotting and rusting' of life in the shipyards with the 'parties and picnics, dramas and dress-ups' of elite colonists enjoying summer racing season in Sydney Australia. Here, Gardner's technical skill is displayed in musical plosives and fricatives, assonance and consonance that alter tone and create context. Characters are illustrated with brevity, yet they blossom in our minds, fully three dimensional. We meet Jack Want, owner of the Mignonette who 'appears showy' to commissioned Captain, Tom Dudley, 'a man in his thirties […] God fearing […] confident and sober.'
Themes emerge naturally in the correspondence between the captain and his aunt in colonial Australia. The wider conceit of power and powerlessness is stark as they discuss the 'sortie from Khartoum', but there are ailments even the rich cannot avoid when 'the R.M.S Rome arrived at Queenscliff […] with smallpox on board, […]'.
The Mignonette sailed from Southampton on 19th May 1884 with a crew of four:

            Captain Tom Dudley
            Mate Edwin Stephen
            Able Seaman Ned Brooks
            Cabin Boy Richard Parker
with a sense of freedom, fresh air and promise:
            BOY
                        They voyage out
                        we ailed as fine
                        and fair as fivepence
Then the 'mountainous ocean breach[es] over us' and '[…] the world dissolves/until [Richard] can no longer see.'
Gardner's use of the page in THE DROWNED YACHT creates breathlessness:
… down
into
dark
receding

away


into the depths
The enormity of the situation is encapsulated in six simple words, cast adrift on the page:
            Days and Nights on the Ocean
Yet there is worse to come as,
 They had no water, and they drank their own urine […]
with even more still to come:
            BOY
                        They speak about me secretly
                        nodding and glancing[.]
Gardner's sleek imagery nauseates; we become voyeur to Richard's gruesome murder and and the remaining crew's cannibalism:
            MATE
                        […]
I see the quick slash across his throat
                        […]
His wound a mouth to our mouths
                        […]
But can murder ever be justified? The storm may have ended for Richard, but in the aftermath of the rescue and trial, the MATE and ABLE SEAMAN remain 'shipwrecked […] riven with guilt and insanity'. Captain Tom Dudley, while not untouched by trauma, is privileged and 'looks into sunlight, feels in clemency a Southerly' before his own powerlessness sees him 'fevered' as 'big fires close the Bonded Stores. They say it's bubonic plague.'
The choice to narrate the story of the Mignonette in verse is surely an excellent one; paring back the exposition and distilling only its essential elements, Gardner creates a story that haunts.
Wanda McGregor.