Tweet
Claire Crowther
(Shearsman Books, 2020); pbk, £9.95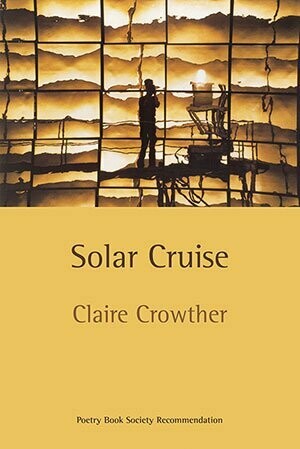 Claire Crowther's fourth collection Solar Cruise, a Poetry Book Society Recommendation for Spring 2020, is a deeply moving and introspective memoir, which documents the relationship between herself, a poet, and her husband physicist. Her linguistic choices––pneumonic rhetoric, metaphors and similes––demonstrate the value of researching and making strides to combat the adverse effects of climate change. In Solar Cruise, Crowther examines the language of science closely and discovers the poetry hidden underneath.
Her collection opens with a question:
Where are the small experimentalists? Where are the cellar labs and the string and the three a.m. light burners? […] Are all the science professionals shiny nowadays?
Here, Crowthers marvels at the shabby scientists who quietly comb their research, defining 'small matter.' These are the men and women who make history, their patience uncovers the kind of minute change that reshapes our view of earth. This prosaic prologue aptly grounds the collection's overarching love story.
Solar Cruise celebrates Nature––its prowess and longevity. In the collection, Nature is depicted as a body of atoms and cells, poets and scientists who, when in unity, develop an extraordinary aptitude for evolving alongside both the geographic and technological advancements of our time. 'After Dinner Speaker' mocks the small-mindedness of Crowther's 'shiny' professionals who demean Nature's resilience. Crowther laments the way their ignorance and humanistic pride for 'the artificial leaf'
cut[s] short
the half billion years nature took
using CO₂ and sunlight
to perfect a breath-enabling growth fuel.
In this stanza, Crowthers seems to be asking––How can you, mortal being, be superior to our olden earth? Does not Nature supercede you in a wealth of millennia-wisdom? What can you learn that she has not felt intuitively since the beginning of time. The irony––Nature's small matter makes her great, but this grandiosity is what makes small of man.
A significant reflection in Solar Cruise is found in 'Genina In Memoriam: Irène Joliot-Curie, Ida Noddack, Lisa Meitner', where Crowther writes about how the women who suggested 'that the nucleus of an atom could split in two parts' described the splitting atom as 'waisted.' Crowther deepens her depiction of Nature as a gendered physical being by reiterating Lisa Meitner's 'famous' illustration. 'A man,' she begins, 'does not have a waist […]
A woman has a waist.
A woman has been required to identify her waist.
A woman gains a neutron to do this.
A man remains a spherical uranium nucleus.
She splits.
While this stanza merely engages Meitner's scientific representation, the following one expands this image to criticise sexism against women, body image and oppression.
A woman has been deemed
beautiful in the absence of
a deep breath,
but a woman becomes
explosive when a waist of
energy is imposed upon her.
In 'Irony 3: I Gain Confidence In the Ocean Metaphor Dominating This Book,' Crowther describes the split like 'a drop of water breaking':
a simile of sea
volatile wet land
and her image of this invisibly small break
unlike Tennyson's whole grand sea
breaking, breaking,
breaking on its cold grey stones.
The repetition of the word 'small' emphasizes the grandeur of this word; the power that small decisions make on socio-economics––the cultural and environmental forces that mould to one another in the aftermath of change.
Both water and the sun are prevalent images, representing not only the relationship between lovers, but the relationship between a scientist and his research, a poet and her words. In 'Wingding,' Crowther describes two different methods for unearthing information, scientific and literary.
Sun shines in
Our deep devices
Some part water
Some tread on it[.]
In 'The Ghost of Marie Curie Works Up a Chorus while Chatting to Enthusiasts at a Model Engine Rally in 2015,' Crowthers warns readers not to 'check lost detail,' or else, 'remake exactly what you've made.' Solar Cruise demands questions, provoking thought and uninhibited exploration. Unlike the collection's scientific equations, Crowther's final poem 'Margins, Curled' gives reader a simplified approach to uncovering the mysteries on earth:
gingerly between light and hydropower,
run
till horizons claim the sun.
Shanley McConnell