Tweet
Harriet Tarlo, illustrated by Chloe Bonfield,
(Guillemot Press, 2021); pbk, £8.00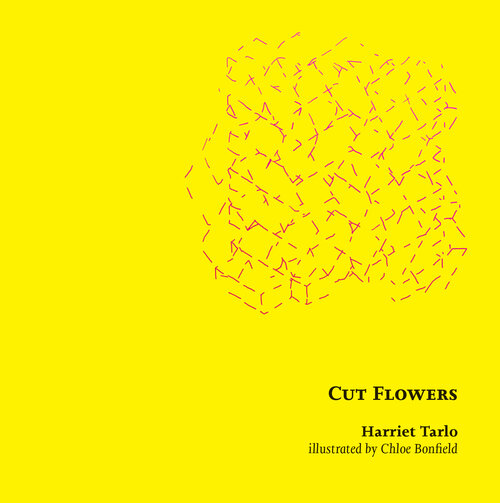 As Professor of Ecopoetry and Poetics in Sheffield Hallum University, Harriet Tarlo's poetry centres on linguistic, natural and political landscapes. Divided into four seasons, with twelve poems per section, Cut Flowers blends into and builds upon itself organically. The collection consists of poems of hybrid structures, which can be read horizontally or vertically, allowing for different interpretations and conceptual understandings, often indicating the juxtaposition between beautiful living things and the severed, separated, dying and the dead. The consistent layout can sway the reader's thoughts, creating diverse responses and moving us back and forth in space and time; the caesura and white space down the centre are indicative of cut flowers themselves, a collection of mixed colours and experiences.
The title poem draws the reader into both present and past through close observation of the quotidian but reading the first vertical line creates a dream-like quality, while reading the second line suggests solidity based on seasonal expectations and all that has gone before. The two appear on the page almost as though they are in conversation as the end of one line begins another, connecting often disparate ideas for the next:
cut flowers why would they when
it came to it lasting longer,
long days before dawn sees
a fair light crows & robins upright
on the wall look out, learn to travel in
deep time blood fish & bone, find
new ventures prepare, parse, prey for
vegetables [.]
Tarlo's poetry can be confusing and questioning through her use of the division in the metrical line, but this compels readers to become observers, forcing us to think of the relationship between language, concepts, meaning and white space. The opening lines bring context, the last words brings wonder. In her form, Tarlo is heavily influenced by the American modernist poet and essayist, Rachel Blau DuPlessis, and there are nods to Ezra Pound and William Carlos Williams. Her layout often creates a sense of meditation amongst images of nature and human regret, allowing for pause and reflection, as is evident in this poem composed from notes taken at Berlin Jewish Museum:
something human in the eyes of wooden
shtetl walls before the war
glaze black of lions, bears, rabbits
caught in griffin claws, the full
zodiac circle strong colours all
pregnant sheep sleep at noon
clematis crawl, suddenly
summer[.]
An autumn verse uses italics as well as lines and space to make us stop and think about a comment made by Mark Rothko, the American artist of Latvian Jewish descent, regarding his Seagram Murals (1958-9) and his refusal of a commission for the Four Seasons restaurant in Manhattan:
people can stand anything
these days [.]
In Tarlo's poems, the meaning is not always initially obvious, but the appreciation of language – meter, rhythm, imagery and metaphor – allows us to 'listen' as well as read, and short, sometimes even one-word lines, coupled with alliteration and assonance strike visceral chords that stay with you.
Tarlo creates a sense of immediacy as she writes of climate emergency, the split form accentuating the coming storm:
giving names to storms does not domesticate
split polar vortex over Siberia
took up N Sea water, crippled
battered LED boards blizzard
Britain tissue vision terrace
eerie cancellations calling
scaled up to glacial Scots
eyed [.]
In her final winter poems, as we move our eye along one half of this reflection, we are reminded in terms as chilling as the Cold War itself that nothing is permanent:
alliances & divisions don't help Syria
taste
pleasure
not homes
errors
kicked
all in part
history [.]
Reading the next part separately, the white spaces add to the sense of the uncertainty:
affections, get back into
trying to make homes of
needs to travel, to feel
green slab of hillside
over at the end of winter
upturned [.]
If the purpose of this collection is to suggest rather than explain, and to exercise our imagination while leaving our emotions upturned, Tarlo certainly succeeds.
Loretta Mulholland