Tweet
Rebecca Sharp
(Tapsalteerie 2021); pbk £5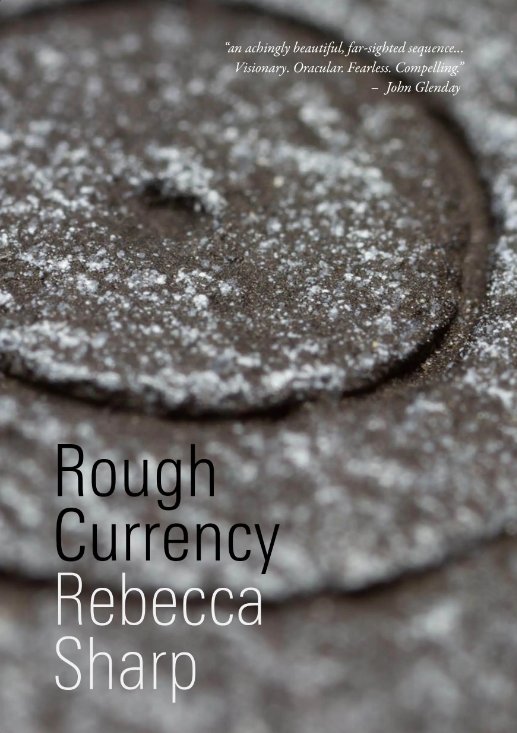 In poems that deftly explore humanity's entanglement with, and reliance upon, the fossil fuel and oil economy, Rebecca Sharp has created an intelligent addition to her growing portfolio of poetry, plays and performances with her new collection Rough Currency. The addition of a supplementary soundscape by Philip Jeck made available externally through the platfrom, soundcloud, moulds Rough Currency into a hybrid form of printed words and sounds, thereby exposing the increasingly hybrid and cyborglike nature of our machine-reliant human race. Through evocative imagery, sonic and experimental poetic forms, Sharp challenges our voracious consumption of primary resources and our lack of agency in protecting our world. The spiralling quality throughout her collection connotes a sinister sense of entrapment and monotony that reveals how the continuous extraction of fossil fuels ultimately contributes to humanity's downfall.
Sharp structures her collection into three sections: 'Above,' 'Between,' and 'Below.' Engrained within the very structure of this work is the notion of delving deep, both beneath the surface of the Earth, and beneath the superficial surface of our material world. The poem not contained within these categories, 'Beacon Spell,' depicts how we are trapped in:
a performance of handing out keys
without showing where the lock is.
Within the first stanza, our communal lack of purpose and direction is exposed; we have the capability to unlock ourselves from complacency and create a difference, but we cannot find ways to implement it. This poem then is the key into Sharp's descending structure: only by acknowledging our potential for change and questioning what's missing can we start to break the cycle of exploitation and destruction.
This questioning of purpose behind human activity is central to Sharp's poetic experimentation. The poem 'What drilling does (I)' is shaped like a drill, directly pointing into the blank space below, as though taking issue with our static, complacent state under institutional control. However, a natural image emerges from this mechanical drill, as Sharp states:
so when there's nowhere
left to go, maybe it's
seeds we're
dreaming
for.
At the beginning of this collection, Sharp provides a brief sense of hope that we can outgrow our complacency and produce more sustainable ideas for our future. However, 'What drilling does (II)' vanquishes this hope by depicting drilling from another angle. Rather than a sharp point, the poem structures the repetitive phrase, 'drilling does what drilling does', in a spiral formation, curving into itself and thus never moving forward. Hope arrives in tandem with new ideas yet also with corporate industries brainwashing which return us into the status quo and complacency. Sharp's bold poetic structures capture the entrapment of antipathy created by oil industries thereby preventing human growth and evolution away from the materialistic world.
Harrowingly, the indoctrination of oil industries seeps throughout the rest of the collection – Sharp observes how earthly materials are 'applied to pulse points' of economy, which is depicted as a body with 'borrowed heat' and 'droplets glamoured.' We treat the Earth like a life support machine, sucking away its natural energy and repurposing it for superficial, whimsical fancies. This invasion is beautifully portrayed in the assonance of 'Did we forget we're tectonic'; here Sharp's lexical choices of 'bustled,' 'nestled,' and 'restlessly' creates apprehensive sounds. Humans shove themselves into the earth and intrude on natural spaces, yet are still never satisfied.
The use of a virtual soundscape deepens the spiralling quality of Sharp's accusations. Other-worldly, ethereal sounds are clouded by the crackling of vinyl and machinery noise, including a long, seemingly endless note. The sound piece has no clear progression, much like the society depicted in Sharp's written poetry. This audio accompaniment materialises her concerns outside of the collection's pages, affecting also the reader's intangible imagination, which in turn forces us to confront our own complacency. Rough Currency has a bleak, dystopian texture to it. Yet this isn't the future but the world we're living in now, and Sharp evidently wants us to see our world for what it is. Rough Currency is astonishingly insightful, and unafraid to embrace the consequences of human activity.
Orla Davey