Mandrake Petals and Scattered Feathers
Tweet
David Greygoose
(Hawkwood Books, 2021); Pbk, £8.99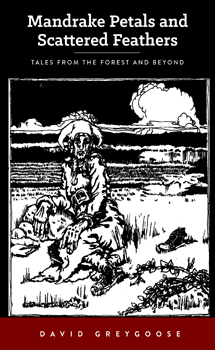 Mandrake Petals and Scattered Feathers is the kind of book you would expect a strange old lady to hand to you whilst cackling, and afterwards you would never see her again. This collection of medieval folk tales drew me in instantly and I only fell deeper into its hypnotic spell as I read it.
The stories are original fables filled with phantasmagoria: shapeshifters who transform into beasts and bite each other animalistically, a girl whose mother covered her in thorns, ships that fly through forests. The imagination on display leaps off the page, aided by Greygoose's old-fashioned and yet accessible style of writing. Despite using a lot of archaic terms, for example referring to girls as 'girlen' throughout, his writing never becomes impenetrable. The simplicity of the style means the story is always well-conveyed.
The world constructed in the pages of Mandrake Petals and Scattered Feathers situates itself quite comfortably between the dirt and hardship of real medieval life and the strange otherness of half-remembered myths. This is a world where you'd pay a man to hang both animals and people, but also a world where girls can magically transform into birds. These two elements from two different stories feel complimentary rather than contradictory.
The first big surprise in the book (and this may constitute a spoiler, so beware) was when an early story that was seemingly complete continued on a few stories afterwards and would later prove to be an ongoing story that Graygoose goes back to throughout the collection. This was surprising; I fully expected these to be self-contained. This reveal reverberates across the tome, you never know which of Greygoose's macabre cadre will suddenly appear in which story or which thread will be pulled.
A boy named Elmskin is searching for the lost maiden Rimmony. Both characters appear regularly across the collection, as David Greygoose tracks them on their journeys. My only criticism of the collection is that perhaps Rimmony could have been given some motivation of her own: it's clear why Elmskin is going on his adventure, it's less clear (unless I missed something) why Rimmony is going on her own. It seems she is wandering without a purpose. It's the only case where the book's vagary, which is usually an asset, lets it down.
This might sound like an odd detail to fixate on, but even the character names are unique. This is a world filled with characters named "Pickapple", "Wranglethorn" and "Night Ash." Greygoose has populated this world with esoteric characters, labelled esoterically. It helps create the old, washed-out feeling of the collection; it truly feels to be from another time so far back it might as well be another world entirely.
Despite the consistently haunting and atmospheric feel throughout, Greygoose is able to fit a variety of tones into his box of delights. While many of the stories leave the reader with a feeling of dread and uncertainty, some of the stories are sweet, others still are amusing, particularly the shorter stories about the Puckish prankster Pickapple. Some of those stories even veer into slapstick, to the extent that one ends with literal mud on Pickapple's face.
Without going into further spoilers, the final note of the final full story is perfect, as it shows how the characters have been affected by their adventures. It's a haunting final moment, a coming-of-age shaped through trauma and experience, where it's unclear if growing up is a good or bad thing for these characters. Their future looks incredibly hazy and uncertain. The final moment leaves the reader wondering if their journeys were worth it for the characters, even if it definitely was for the reader.
Mandrake Petals and Scattered Feathers is an amazing accomplishment. Perfect for readers with an interest in folk horror or the darker end of fairy tales.
Sam Kidd