DJCAD DEGREE SHOW 2022 – FINE ART
Tweet
Studio 600, 509 & 510, Duncan & Jordanston College of Art, Dundee
21st to 29th May 2022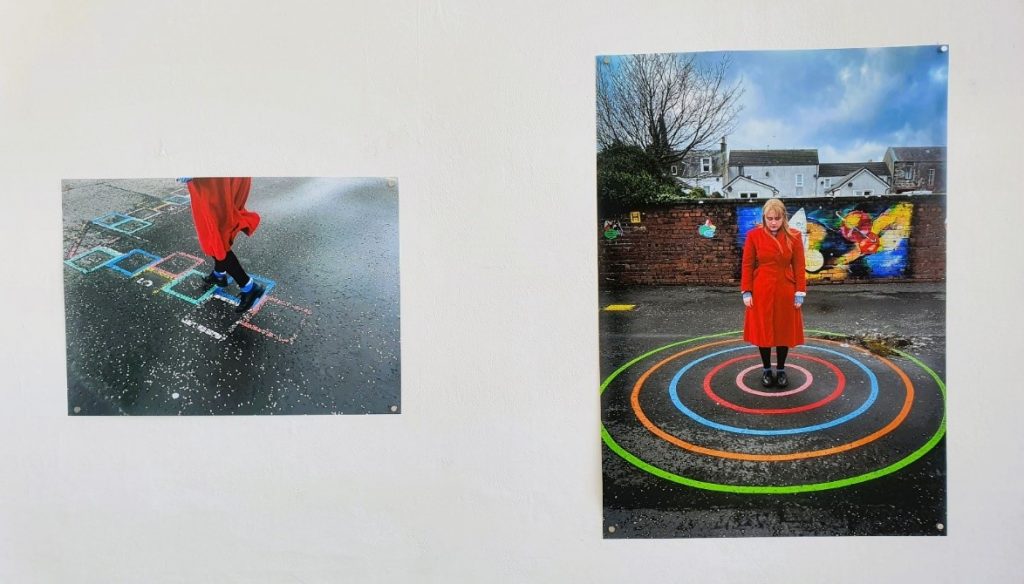 For the first time in two years, DJCAD opens its doors to warmly welcome visitors in-person to their renowned and much anticipated Degree Show. An eclectic showcase of ambitious and exciting bodies of work from this year's Fine Art graduates. What strikes me most is just how much there is to see. The work is dispersed throughout the college and adjoining Cooper Gallery, and it is easy to spend hours in each area of the building perusing through paintings or immersing yourself in an installation.

The themes explored are as diverse as the media used to express them. A critique of the way the female body is typically portrayed within contemporary media was one such theme explored by Georgia Legg in her confronting work. Still images showing various parts of the body are presented across a triptych of screens on one wall, while a larger projection of a film on loop dominates another and is the first thing you notice upon entering the studio.

Downstairs, Caoimhe Cunningham's space is airy and bright in contrast. A soothing rhythmic melody greets us as we enter the room; the music paces us as we move through the space. Spend long enough in here and the track changes to more upbeat, energising sounds. A small book displays the mathematical workings behind the large-scale digital paintings, which are visual depictions of music, and a vinyl record with sleeve has also been designed for display. I am drawn to a digital painting which is printed on fabric and is lit from behind. The movement of the cloth is symbolic of the movement of sound waves. The colours are muted; pastel blues and purples.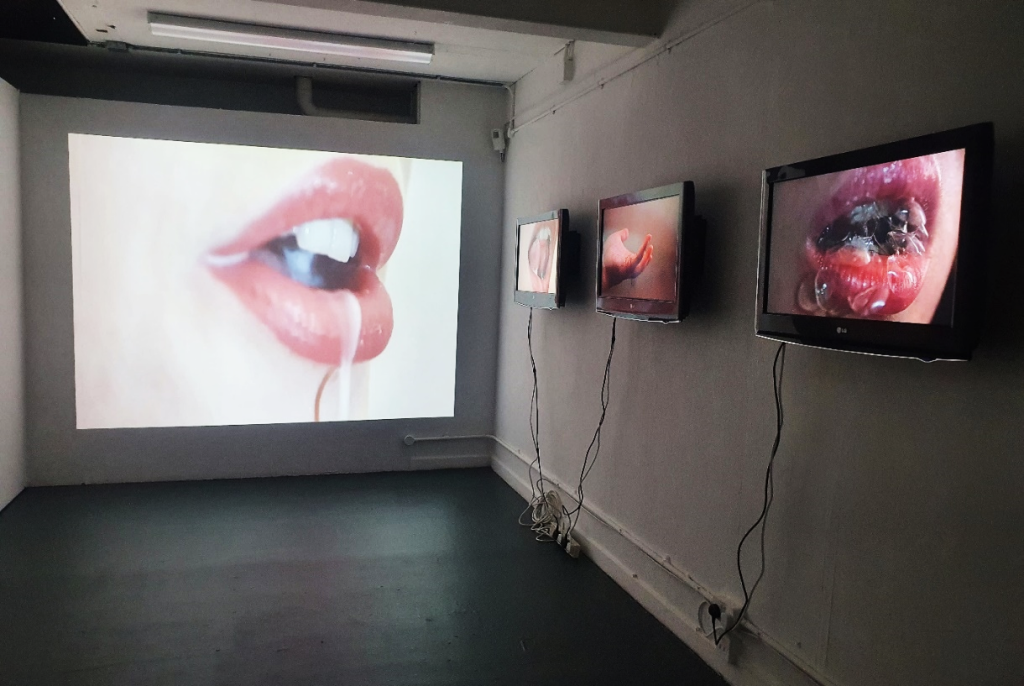 In the space adjacent, a film is playing on a wall-mounted screen, depicting a woman in the shower scrubbing her thigh with a rag until pink and sore. Colourful photographs are displayed alongside the footage and include vibrant scenes of playground games which juxtapose the more sombre images of shower scenes, creating an immediately sinister tone. A series of self-portrait polaroids are displayed in a grid formation and document time passing; some show clear upset, others appear more neutral. The music from Cunningham's work does not interfere or clash with this space and the two complement one another well – both personal in completely different ways.

Across the hall, environmental concerns are raised in Yan Leung's piece. Leung proposes that we consider the wasteful nature of packaging in a couple of ways – firstly, by watching footage on a wall mounted screen of the artist upcycling cardboard to repackage a purchased item, and secondly, in the more literal sense, by sharing our own sketches/ideas in a provided sketchbook. The sketchbook sits neatly on a desk which is positioned in front of the wall showing the film piece, giving the space a school-like feel. A place for us to re-think and be educated on this important issue.

In the next corner, 26 pairs of eyes stare directly at us: half of these drawings are in colour, half are monochromatic, but all are hyper-realistic and intense. Here, wildlife concerns are raised by Leiha Martin who asks us to look Through Their Eyes in her simple yet profound display. The animals are looking directly at us perhaps judging us, looking for answers, or simply seeking protection – something Martin aims to provide by presenting them in this thought-provoking installation.

Despite the limitations to learning that this student cohort has experienced due to extraordinary global circumstances, the work displayed demonstrates not only their acquired skills, resilience, and ambition but also the multidisciplinary approach towards contemporary art which DJCAD clearly encourages and nourishes. The 2022 Degree Show, above all, reveals that in the face of true adversity, creativity cannot be stopped, limited, or silenced. The doors are open, and they intend to stay that way.
Lauren-Marie Kennedy