Tweet
Linda Black
(Shearsman Books Ltd, 2021); pbk £10.95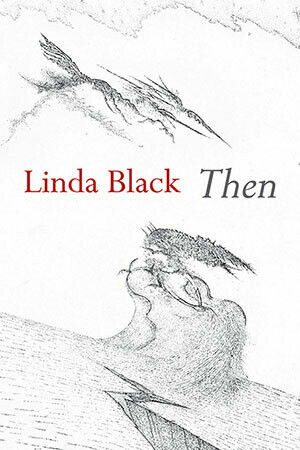 Linda Black's fourth poetry collection, Then, is a twisting and turning thread that is pulled through the layers of emotion and experience that form the fabric of life. In a stylised and sophisticated manner, yet also playful and childlike, Black manages to weave multiple incarnations of herself throughout her writing.
Black studied Fine Art at Leeds Art College and etching at the Slade School and her work appears on the covers of all of her books. At once distinct yet stylistically linked, her etchings create a beautiful unity between her work while also highlighting its evolution.
Then is a collection which speaks to the past, present, and future. It reflects on the consequences of actions taken and regrets for those which were not. There are numerous references to relationships that have been lost to time and Black's 'small forget-me-nots' issuing a plea to be remembered. 'Extreme Conditions' echoes this appeal, referencing the hurt caused by
messages ignored the faithful
long gone the walls
distressed[.]
Then is multifaceted in its pictorial, tightly constructed, and lyrical manipulations of language. Black's writing asks its reader not to overthink or attempt to untangle the tricksy language it engages with, but rather to immerse oneself in words and 'Browse for/the time being'. Black brings together an assortment of diverse forms including prose poems, grid poems, and flash-fiction. Some of Black's most impactful messages are imparted through more compact, less decorous pieces such as 'I like', where she remarks:
if it was up to me
I'd deem you well
alive and well
and sitting opposite[.]
The subject of the poem is unnamed, but the sense of grief and yearning to be with a lost loved one again is palpable. Black highlights that it is the substance of writing, rather than extraneous details or words, which conveys the greatest meaning and emotion.
Unnecessary embellishment is touched upon in greater depth in the section entitled 'Frippery'. Many of the poems under this heading reference garments—their design and creation—and uses these as extended metaphors for familial memories or feelings of abandonment and loss. In 'Much Sequencing', Black reflects on,
the family remembrances
of pain or glory
the passing years[.]
Generations-worth of fair isle, knitted cardigans hanging in a row, symbolise versions of herself that have been outgrown, as well as the absences of people who used to fill the now empty spaces.
A similar relationship between clothing and its wearers is formed in 'Here and there', with attention drawn to
a critical heel the well-made
face many wear hats
simultaneous coats exeunt
In small steps [.]
Here we have a magnified view of the seemingly mundane elements of ordinary life; details are clung to in the hope of immortalising human connections, memories that become less tangible with time.
One of the most amusing and freeing aspects of Black's writing is her playfulness with language. Quite often she writes in a style resembling nursery-rhymes or children's playground games. The word play of 'Girl in peril', 'Clip-clop, gob-stop, trip-trap, fan and gander', endows the poem with a more natural flow and rhythm, while its linguistic exuberance helps to convey a childlike innocence.
Then offers honest insights into the joyful and traumatic moments of life, emphasising the emotional depth, creativity, and skilfulness of Black's writing. Her final poem, 'Afterword', suggests relinquishing control to the natural order of things:
I cannot know what happens next[.]
Then is a delicate, imaginative collection of poetry which speaks to the various incarnations of ourselves, simultaneously entertaining and causing us to think more profoundly.
Eilidh Henderson