Wanting: Essay Fragments (Winner of the 2022 PNR prize for Creative Essaying at the University of Dundee)
Tweet
Burden
Goldilocks produces prophesied curls, Snow White becomes a pearly corpse, Thumbelina never grows beyond her moniker. "What's my name?" The Queen speaks the legendary word and Rumpelstiltskin, crooked imp, boils. Hops on stilt-thin legs, hide splitting. Repel-stilt-skin.
I gobble fairy-tales like chocolates, plump with self-appointed expertise. Evil girls pretend to be princesses, masquerade as servants, pose as grand ladies. But they are all, in the end, stripped back to one-note-names: stepsister, girl, prince, king. Red-Riding-Hood, unable to shed her cloak, marked delicious by its blood colour. Worse – Mossycoat, known by a garment her mother is yet to sew. Witches never get a name as that might crack their container. A witch called Daffodil isn't capable of devouring children – she must be a herbalist vegan. A slew of tags and labels: evil, good, ugly, pretty.
Soman Chainani wrote a version of Rumpelstiltskin that pondered, "Know his name and that means someone gave him that name and suddenly the Devil isn't the Devil but a soul beholden to the one who named him, and isn't that who we should be afraid of?" Rumpelstiltskin – fiend who revels in ambiguity – who did that naming? They must be the worst parents to inflict that gibberish on their infant. Denise Riley remarks, "Giving a child its first name is a small violence." In this case, I agree. Imagine Rumpelstiltskin at school. Oh the mocking that poor kid must have endured, compared to the strapping Jacks, darling Beauties.
In folklore, knowing a person's birthname can give you control over them, wielders can trick a named one's senses, use them at whim. "The name is strong magic," says Riley, in her book Impersonal Passion. Initially scratches on paper, a sound, yet soon more – sticky tar that melts into the persona. "Influencing with irresistible power the whole course of your earthly fortunes" Inescapable bond; it grows in you, binding to the perception of self, both internal and external. Rhetorical symbiosis.
The child tries to take up a new identity: Hansel, Jack, Peter. Yet, Rumpelstiltskin, the associations, the babble of syllables on the tongue, follows like flies to stink, buzzing. Shadowsdistortedechoesthatcrackle Shrapnel inside. Riley warns, "The named one bows to the thin fiction that the name is herself, that she must be Monica, and so Monica becomes her" Rumpelstiltskin, – hilarious, a pantomime villain. Watch as he becomes his name.
The bitter lad hides in the woods, dispenses with introductions altogether, trying to escape fate. (There's a reason the Queen struggles to find his title.) When not spoken, a name is but a distant internal whisper. Like the Devil, Rumpelstiltskin's anonymity is a shield, a fearsome disguise.
I understand this; standing in a room of strangers, my liveliness is unleashed. Catapulted into extrovert, my previous selves are shelved for a moment of weightlessness. But they do not remain separate. Skins on the ground, ready to ride up legs and engulf me. I am changed, drawn back.
And there it is, as Rumpelstiltskin stands before the Queen, having left his sanctuary to fulfil her desires: Rum-pel-stilt-skin. She giggles awkwardly, thinking: what a stupid name. Hollows unlock, years of torment rise to flood. He burns under the burden.
Rumpelstiltskin combusts, undone by four syllables. Story complete.
Photograph
A joke in the eyes, spark, a potential story… The slight arch in her right eyebrow unlocks gates, welcomes. Untamed wisps of hair. At first an outsider, blank space, I invite the printed apparition into reality, gifting it depth. This character will be an adventurous go-getter sort of gal. And she knows she's pretty; she stands erect, chest out, confident in a room full of people, in a tight top of traffic green go… "My name is Elle. I am 18 nearly 19 – old!"
"What do you like about having your photo taken?"
"I don't know… I… like it when I know when a photo is going to be taken of me and I've had enough time to prepare. When I know where the camera is and I know that my angle is right. Most of the time, I don't like having photographs taken. Um… I don't, no.. I just, I don't like seeing images of myself that I don't think I look particularly attractive in, I guess? Going very deep!"
Every time the camera snaps, Elle must view the results, deleting offending pictures. For her, the camera is a weapon and a shield. She both loathes photos of herself yet is addicted to inspecting her own image. The person captured ought to be better than herself.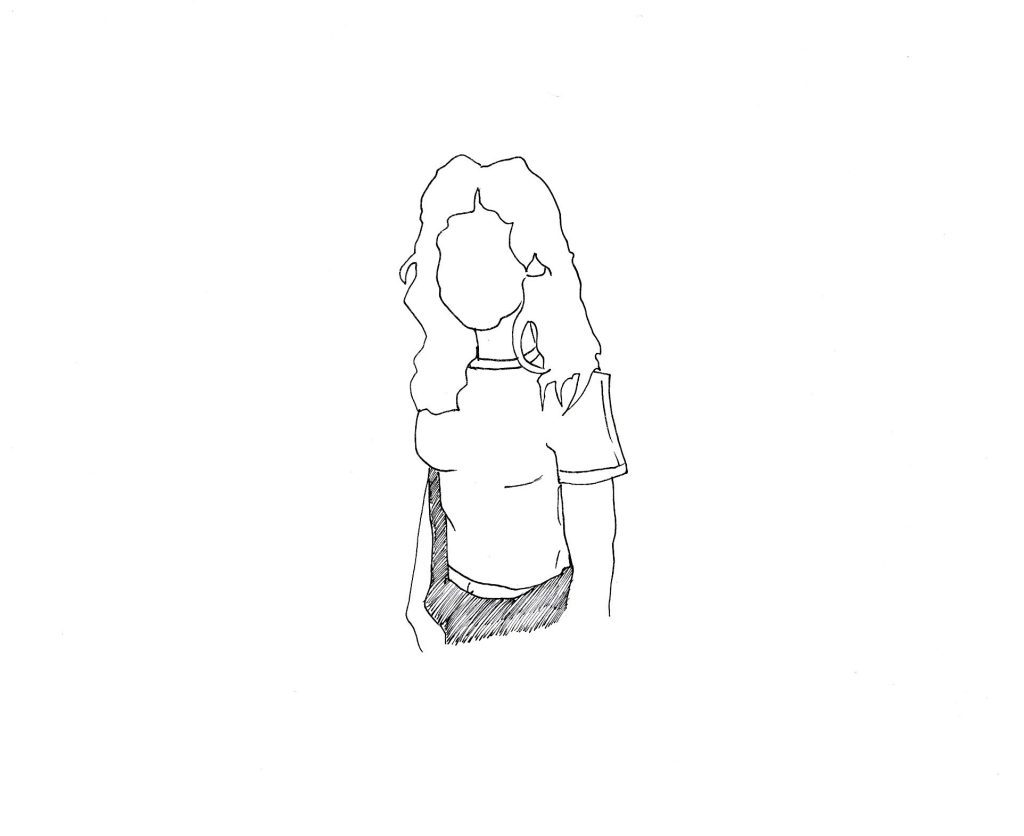 Captured – what a perfect word.
Take. Snap. Click. Shoot.
Perhaps because, as Roland Barthes supposes, photography is a form of death; "I am neither subject nor object but a subject who feels he is becoming an object: I then experience a micro-version of death (of parenthesis) : I am truly becoming a spectre." Under the camera's stare, Elle is separated from her flesh, consumed by the mental occupation of being the lens – noticing the shape of her nose, the mole she hates, the strange position of her arms – do they hang oddly? Looking at the produced artifact is to view a mirror creature "embalmed" in shiny ink, "a horrible disinternalized countenance."
"What do you like about taking photos?"
"I love taking photos. It's really funny because I don't like capturing authentic moments of myself but I love capturing authentic moments of others in my life, and just life in general. I love keeping photographs for memories, but I also love taking really interesting photographs of specific scenes, that can evoke certain memories, or emotions, or just look really cool to be honest."
Authentic. I try to associate that word with photography – taking blurry snaps of moving figures, faces relaxed and joking. I have collections of these images, dubbed as bad, hated by those featured. But even then life is absent.
The New Yorker announced that narcissism rates are rising, encapsulated by "selfies." But a photograph of an individual is not always for the self. If a picture is taken by your own hand you can control the moment of the snap, yet, even then, you contort your body to social codes, and, still later, imprison your presence in another's gaze. Posture: head tilt down, chest pushing forward – hide the stomach. "The perfect face, the perfect waist." Distract: make-up, background, clothes. Draw attention to the eyes. Smile but fear crow-feet crinkles."You've got to be this individualistic unit of perfection." All of this, the way Elle is shaped, is designed for the viewer not the self.
I remember reading Teju Cole at the Roman Forum, a place photographed because holiday snaps are expected: "A visitor might think she's simply experiencing a set of archaeological ruins or a natural feature of the landscape, but she is in fact subject to whatever the tourist board, landscape designer or architect has prepared for her."Social media platforms are like tourist sites, the eye trained to view bodies in certain ways. Figures repeated in semi-identical postures, hollowed out; wide empty gazes and puckered lips, designed to be objectified. "This preparation of the site has a major but often unnoticed influence on the photos she might end up taking at the site." When Elle started with social media the change was clear, her photographs became less her, blanker. Now, a printed ghost of her, not an authentic moment of a loved and familiar person, but a stranger.
"And… what do you think about the idea of photographs, or taking photographs? Do you think it good thing, or a bad thing?"
"I think taking photos is a very good thing. And I also like recording memories, um… and taking videos because, we live in a very digital world where a lot of people take videos and photographs to be liked, or because, something's funny or, you know, for peer pressure's sake. And I completely disagree with that, I want to take photographs and videos for holding those memories of people… the fact that we have the ability now, to keep these things fixed in time forever, which we didn't have in the past, I think it's such a valuable thing to have. And, I just want to hold memories and life experiences, and why not?"
She appears smiling in scrapbooks, calendars, on my phone ̶ my silly bad collections. When I took those, I didn't know she had eating disorders. Looking at the images now, I am consumed by guilt. How dare I pluck out her picture and paste in happiness, smother her narrative with my own.
Photographs are not eternal – "fixed in time forever" – they shift constantly. I will discover things in those two-dimensional eyes and smile, which curdle the joy I thought I was preserving. Even with recent snapshots, I find myself noticing her stick-arms, neck, slight lollipop head. She might seem to be at her happiest in the image, but I cannot see that, for my vision has been tinged with knowledge of her illness.
How can I hold a moment, when fresh perceptions overlap the old? Like wallpaper, palimpsestic collages of sticky glue-soaked magazines that fix and harden until the bottommost is almost obscured. Fresh layers cannot be removed; that initial blank void of absence can never be recovered.
And yet…
I exhale Barthes' words: "The effect [photography] produces upon me is not to restore what has been abolished (by time, by distance) but to attest that what I see has indeed existed." My moments and perceptions happened as did hers. Separate, conjoined, parted again. The past will be buried, but never lost. In the future, I may not see the things that currently crowd my vision, the image could gain a new soul. Deeper memories, changed perspective, the breathing being prior to objectification. Perhaps a fresh set of eyes, framing my observations anew.
"Brilliant. And if you could describe yourself in three words, what would you use to describe yourself?"
"Oh God. Um, short? [laughs] Um… short… err… determined… err… and approachable, I guess? I'd say I'm approachable."
Orithyia
"203. Which way the wind blows."
Once, my friend almost flew. It was in the schoolyard; great gales swept the grass, children screaming excitedly as if in reply, the two sounds mixing. She was a tiny thing (still is), thick fringe obscuring her face, you could have mistaken my friend for a doll of Claudia Winkleman. The wind whooshed a mighty blow and she was lifted, up, up, up – a girl who could fly – until a member of staff grabbed her ankles, shackling her to the ground. I have a fantastic picture of that moment in my head: a little girl in a swirling dress, soaring; a disapproving woman clinging on, keeping her flightless, anchored. Yet who doesn't, when air whirls, imagine the wonder of weightlessness?
Recently, I felt the wind. It propelled, pushed until my knees went weak. The cold cut through clothes, my chest felt foreign, face numb. I thought of Boreas, who snatched Orithyia. I shuffled, scared to be lifted from the ground. Along the pavement, there were rows of warm boxes, wrapped in insulation and stone. Comfort and cold given shape. Gaston Bachelard has written, "The lamp in the window is the house's eye and, in the kingdom of the imagination, it is never lighted out-of-doors, but is enclosed light, which can only filter to the outside." I watched as people snuggled, protected, lived out marvellous enviable plays. The simplest of things ̶ cooking, boiling a kettle, cosying before a tv, clicking computer keys. Watching, my breath clouded and blew away, stolen. "Soon the entire menagerie of the hurricane lifts its voice" and "faced with this pack [,] the house becomes the real being of a pure humanity."How lonely it was outside… howls for conversation, few companionable sanctuaries. Wind whipped, I realised sometimes an anchor is wanted.
Crossing
"There's a zebra."
"What? Oh yeah. That's like, the only thing I can see in that building now."
"Yeah."
Walking along cobbled streets, dull aches in the balls of my feet – a feeling of squishing suggests blisters. Bodies here bustle, they don't stride or tip-toe but jostle, trenched-down, buttoned up – a forceful flood. At a crossing, waiting. Black and white: prison bars, of sorts. Soon, the sweet release…
Looking up the sky is a washed-out hanky. Opposite, between the drip dappled beige blocks, a shining glass upstart: metal, concrete and glass; bright eco-bulbs. A life-sized plastic zebra stares down from the third floor; its blank black eyes glisten as it peers from an office devoid of people. A museum exhibit for the waiting, housed in its glass cage for jockeying folk outside.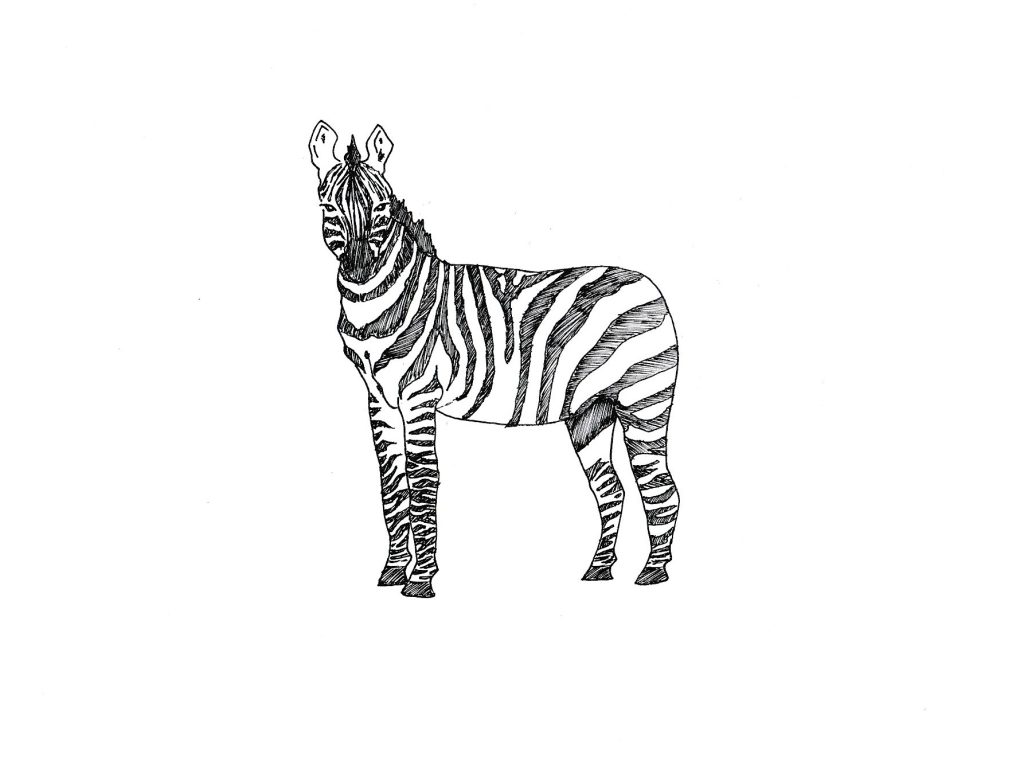 We eat ice cream using useless unrecyclable plastic shovels and watch the goosepimples rise on our arms. The flavours are chili, peanut and coconut, then bergamot and figs. A cool rush of air brushes the nape of my neck, all I can taste is chili, peanut and bergamot. What is bergamot? We debate and conclude: perfume. Colone desserts – how very city.
How very city…When did cities become adjectives, a mode for things to be labelled by?
A vintage shop with a paper mâché trapeze artist in a pink feather boa, a pastille assortment of hats. The music? A faintly recognised rock record, that Star Wars song played softly in the sad bits, an old Eurovision entry, and a discothèque rave. Everything here is stained, smelly, full of holes. Clothing rots on hangars, trailing from the rafters, showing specks of mould. Busiest day of business yet. Confusion is isolation.
"We're all very city today." My friend declares, documenting our outfits with a polaroid: beret hats, pastel trousers, coats split open so the faded knitwear can be noticed. I gawk at girls in starry jeans, tie-dye crop tops, canary beanies, knee-length shirts draped under lime sweater-vests, fishnet tights. How do they stay warm? Coats: cropped or oversized, leather, suede, browns, frothed turquoise wool. I read Italo Calvino, "The traveller roams all around and has nothing but doubts." This morning I feared donning a hat – being childish, playing dress-up. Now I feel plain, stripped of interest, bland as the sky. I tuck my beret into my rucksack as we wait by the roadside, unworthy of its cinematic charm.
The pedestrian lights turn green and determined walkers barrel past. I imagine an invisible bubble forming around me so I am neatly side-stepped, left untouched. Yet eyes cut, dull disinterest. I burn.
On reflection, I question: those blank faces and bright outfits – how many people feel as I do, bundled in our bubbles, fearful. I realise I stare without smiling, eyes darting from one face to the next, devoid of warmth. How very city… the gilded facade has messed with my head. I look at those around me but struggle to relate, unable to penetrate the slick surface of perfume syrup, shiny buildings and gaudy fashions. This crossing, this city, is a parade, I am both a consumer and a object for display.
Beggars behind me, on the approaching street. They have become pieces of street art, the city's longest exhibit. I pretend deep thoughts, a need to rush, lively conversation with those closest. I don't want to pay the viewing fee. But guilt flares ̶ a failure for not helping more.
The zebra, now above, a knowing surveyor, watches me cower from myself. "A leitmotif of misery in this temporal city."I think of Bernard Cooper's balcony, the saddest in the world. "It wasn't simply the idea of dwelling above this dismal view that made the balcony sad." Trapped behind glass or ensconced in bubbles, both are see-through separation. I am that zebra.
My friends are ahead. Despite my self-recognition, I let the crossing swallow me in its crowd. I keep to my cage; detesting it yet grateful for the excuses it provides.
Grace Kelly
"Sometimes we need to be heard so badly we hear ourselves in every song the world sings."In lyrics I craft fantasies shaped to my figure –"voices out of the digital ether" – a twisted, darker person, worthy of a story… "Whoever you want to be." I compare myself to each idealised character and find myself wanting. It is easier to be special in a world of your own making. The artist Mika is my kryptonite, his words drift until I fancy them poetry.Daydreams form, washing over reality until it is barely noticeable. Detached from life, I become flotsam. A bundle of abandoned matter, floating directionless. Lost.
"I'm weighted,"
"Why don't you like me?"
"Like the sun that's fallen to Earth"
"Why don't you like yourself?"
"The world you thought you lived in."
*
One of Mika's biggest hits is Grace Kelly; a musical response to the difficulties he had getting a record deal. The song was "written after these musicians were trying to mould me into what [they thought] I should be. I was really angry." Mika was likened to Freddy Mercury and encouraged to deepen this similarity to be signed. But he did not want to fill the shape of another. Mercury was dead, gone – Mika was only himself. Even now, having been signed and found success, Mika continues to be compared to Mercury, an identity neither reachable or desirable.
*
Sontag writes that; "Transparence means experiencing the luminousness of the thing in itself, of things being what they are."The world expects too much of art, interpretation has gone mad, everyone wants hidden depths when some pools that can't help but be shallow. I think I understand this; seeing a taped banana sold for £91,000, Tracey Emin's messy bed. Sometimes we crave originality so much we become senseless.
Fantasy can be a pollutant. Leslie Jamison wrote about a whale, 52-Hertz, oily tears of strangers dripping onto its back. A real creature becomes fixated upon by strangers across the globe, each interpreting an unusually sounding whale in their own personal way. For some, the obsession becomes so encompassing that their lives are shaped by the whale; they get through their days by talking about the creature, tattooing it on their skin. Simultaneously, layers of personal feelings are pushed onto an unknowing animal, until the whale becomes a gluttonous fatberg of self-sympathising, a "vessel in which a lifetime's worth of longings might reside." Many of these fans talk about the whale 52 online, physically alone.
*
No one wants to be reliant on the truth of ourselves, the world. Yet, no one wants to live a half-existence, realising too late that their lives have slipped by.
Walking at night, listening to Grace Kelly, the cold darkness and isolation can be disguised, I can smile, unafraid. I can't decide between realism or fantasy. Which is better?
© Renée Dumenil
References
(In order of appearance)
Riley, Denise, 'Your Name Which Isn't Yours', in Impersonal Passion (Duke University Press, 2005)
Chainani, Soman, 'Rumpelstiltskin' in Beasts and Beauty; Dangerous Tales, (London: Harper Collins, 2021), Pp.257 – 284, "But know his name and that means…"
Vouge, The Most Unusual Celebrity Baby Names,(2021) <The Most Unusual Celebrity Baby Names: Cosmo, Gravity, Pilot Inspektor, and More | Vogue> [22 Nov 2021]
Louis Stevenson, Robert, 'Chapter V—The Philosophy Of Nomenclature', Collected Works Volume 21, (Edinburgh: T. and A. Constable, 1896 <https://digital.nls.uk/rlstevenson/browse/archive/99379486> [22 June 2022]
Merleau-Ponty, Maurice, Phenomenology of Perception (London: Routledge & Kegan Paul, 1962)
Barthes, Roland, Camera Lucida, Translated by Richard Howard (New York: Hill and Wang, 1981)
The New Yorker, Selfies, Millennials, and Narcissism, (2018) <https://www.newyorker.com/video/watch/selfies-millennials-and-narcissism?c=series> [27 Nov 2021]
Cole, Teju, ' Take a Photo Here', The New York Times, July 1, 2018
Sorkin, Michael, Two Hundred Fifty Things An Architect Should Know (2018) <Two Hundred Fifty Things an Architect Should Know — R / D (readingdesign.org)> [29 Nov 2021]
Bachelard, Gaston, The Poetics of Space, (London & New York: Penguin Books, 2014)
Calvino, Italo, "Italo Calvino on Invisible cities", Columbia: A Journal of Literature and Art , Spring/Summer 1983, No. 8 (Spring/Summer 1983)
Cooper, Bernard, 'The Biggest, Most Beautiful Balcony in the World,' in Maps to Anywhere,(Athens, GA ;: University of Georgia Press, 1990), Pp.21-22
Pallasmaa, Juhani , 'Eyes of the Skin: Architecture and the Senses,' in Kinsfolk 22
Solnit, Rebecca, 'Tracing a Headland' in Wanderlust: A History of Walking (NY: Penguin, 2001)
Sontag, Susan, 'Against Interpretation', in Against Interpretation and Other Essays (New York: Picador, 1966) in Shifter Magazine, <Microsoft Word – Against Interpretation.doc (shifter-magazine.com)> [01 Dec 2021], P.6
Any Other World, MIKA, (Republic Records, Life in Cartoon Motion, 2007) [on CD]
Jamison, Leslie, '52 Blue', The Atavist Magazine, 40 (2014), <52 Blue – The Atavist Magazine> [01 Dec 2021]
Oh Girl You're the Devil, MIKA, (Republic Records, No Place In Heaven, 2015) [on CD].
I See You, MIKA, (Republic Records, No Place In Heaven, 2015) [on CD].
Grace Kelly, MIKA, (Republic Records, Life in Cartoon Motion, 2007) [on CD]
Ordinary Man, MIKA, (Republic Records, No Place In Heaven, 2015) [on CD]
David Datuna: Artist eats $120,000 banana art at gallery (2019) <David Datuna: Artist eats $120,000 banana art at gallery – BBC News> [6 Dec 2021]
Ellis-Petersen, Hannah, Tracey Emin's messy bed goes on display at Tate for first time in 15 years (2015) <Tracey Emin's messy bed goes on display at Tate for first time in 15 years | Tracey Emin | The Guardian> [6 Dec 2021]
Grace Kelly (song), (2021) <Grace Kelly (song) – Wikipedia> [6 Dec 2021]
No Place In Heaven, MIKA, (Republic Records, No Place In Heaven, 2015) [on CD]