HOMELANDS: The History of a Friendship
Tweet
Chitra Ramaswamy
(Canongate, 2022); hdbk, £16.99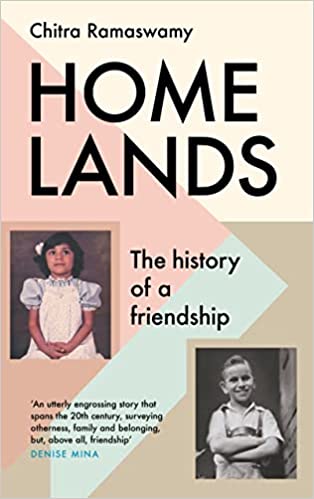 Chitra Ramaswamy's second book explores what home means in an individual life and the role family and language play as fundamental elements in its evolution, as much as the physical place we find ourselves living. She opens up the shifting relationships between homeland and motherland, between the actual place we are situated and an elusive sense of origin, of connection with an elsewhere which is indirect—imaginal even—tugging at the mind and heart. This exploration unfolds in response to a strong connection she forges, one which begins professionally but develops into a mutual sense of kinship, across cultures and across a generation.
Homelands moves between reflections on Ramaswamy's own experiences in the UK and descriptions of those of Henry Wuga, a 97-year-old Holocaust survivor who was relocated as part of the Kindertransport programme in 1939. After several further displacements following his arrival Henry eventually forged a life in Glasgow, marrying Ingrid, who had been similarly transported to the UK. Ramaswamy met the Wugas when she was commissioned to do an interview with Henry in the run-up to Refugee Week in 2011. It is in their home in Sauchiehall Street that they and Ramaswamy begin what is to become an unexpectedly enduring conversation. The Wugas left not only their native land behind but also their mother tongue and speak now only in English. Ramaswamy comments: 'It is easy to know the beginning of things but impossible, at the time, to see exactly what they begin'.
A freelance journalist living in Leith, Ramaswamy writes reviews and opinion pieces for both The Scotsman and The Guardian regularly.  The informal and personal flavour of these newspaper columns translates well to her two full length books, both of which show a characteristic lightness of touch while dealing with big issues. Expecting (2016), an account of pregnancy, won the Saltire First Book of the Year Award. Homeland (2022) asks what it means to belong. Quoting James Baldwin who suggests that 'perhaps home is not a place, but simply an irrevocable condition', Ramaswamy considers what home means to her as 'a bisexual, brown-skinned woman'… and as 'an Indian who did not grow up in the Asian community'.
Ramaswamy deploys her journalistic skills in detailed research into the twists and turns of Henry's personal journey, physical and emotional, and intertwines this with some of her own. Ingrid develops vascular dementia and Ramaswamy's own mother loses her life to breast cancer. Loss of a parent is always significant but has extra ramifications when Ramaswamy's mother, described as unusual, has been not only an anchor but also a conduit to Ramaswamy's Indian heritage, to a motherland whose language she also does not speak.
Soon after his arrival in the UK aged 16 Henry is literally classed as an alien and is suspected by MI5 of being a communist spy. Ramaswamy chases details of government correspondence on this but also brings to life some of his personal correspondence too, conveying the difficulties of communication with family far away, encountered only on the page. She describes a personal parallel, in the form of memories of blue airline letters arriving from members of her extended family in Bangalore, which 'turned my father and mother into strangers…and me into a foreigner in my own home.'
Homelands speaks most strongly to human kindness and resilience even as it considers our treatment of refugees and contemporary issues of alienation, antisemitism and racism. WG Sebald's Austerlitz is a book Ramaswamy tells us she reads repeatedly, and has become 'the place I go to when I'm lost'…. 'the long sinewy sentences propelling you in a direction you do not understand but must follow, like a stranger taking you by the hand in a dream'. Homelands, in contrast, has no atmosphere of gloom or foreboding, despite some overlap in psychological and historical territory. Henry seems to offer an actual living hand to Chitra and reading her book Homelands feels very much like her coming home.
Bernadette Ashby