Tweet
S.A. Leavesley,
(Against the Grain Poetry Press, 2018); pbk £5.00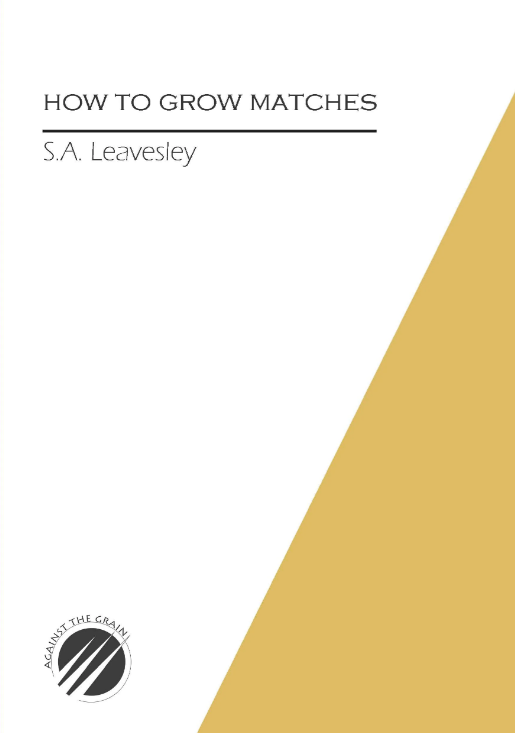 Striking and direct, How To Grow Matches is a powerful addition to S.A. Leavesley's impressive collection of poetic works and novellas. Her poetry commands attention through carefully crafted rhythm and assonance, and evocative imagery. We are exposed to a raw anger against gender stereotyping and misogyny, but which is controlled and contained in a nuanced narrative. Leavesley creates a vision where women, threatened with fading into the background, are inspired to reclaim their space and find their own voices.
Leavesley's anger towards gendered injustice is evidently displayed in 'From His Uncoy Mistress, 2016,' which feels like the product of an ironic reading of Andrew Marvell's 'To His Coy Mistress':
brine in my eyes and the ocean floor
churning up to stone me.
Unlike the resistant lover in Marvell's version, and despite her lover also being involved in this sexual act, Leavesley's narrator takes the metaphorical 'leap,' yet finds herself 'under the wave, tumbling.' She is told that in order to 'claim the perfect wave,' there is 'only my own body to hold in balance'. The woman is left to handle the consequences of both their actions all on her own, due to her body not remaining 'balanced' enough. The anger coursing through this oceanic metaphor reveals how women's bodies and actions are expected to be perfect blueprints of submission. Even the natural world seeks to punish and entrap her, despite offering a false sense of hope in 'Her cumuli collector':
He told her clouds were washed shadows
sucked up from the land; once the sky
spun and tumbled them, even the ugliest
frothed white and fluffy. Fresh. Sunlit.
However, the lexical choice with its swoony and romantic assonance and experimental sentence structures are overshadowed by the bleakness of 'the rain of dark angels.' Behind a seemingly perfect façade lies uncertainty and heartbreak. Leavesley's narrator is trapped in a world where equality and true happiness are merely illusions, ghosts of what could be, which unfortunately never materialise. Dangling utopia in front of us, this poem enforces Leavesley's sense of anger in a way that is direct and impactful, capturing readers' attention.
The power of language in shaping social prejudices and internalised misogyny is evident in 'Territory.' The stark sibilance of 'sticks snap' combined with the climactic assonance built with 'howls,' 'round and round,' 'found,' 'sounds,' 'bounds,' and the final sinister implication of 'flounder,' adds an impressive weight to Leavesley's words. This poem progressively morphs into a predatory hunt, where the woman is indoctrinated into submissiveness and silence. Addressing herself, the narrator observes that
you promise
to exercise your words like the dog –
never unleashed; you play understanding.
The narrator is trained to be afraid of taking up space and having her own opinions, under the patronising, scrutinising, and condescending manipulation of patriarchy. Whilst her partner 'hears you, nearly agrees,' he is left 'pecking over nuances like crows.' The use of animalistic and hunting imagery encapsules the threatening predatory nature that still exists in certain spaces for many women today.
Yet with a few exceptions, such as her 'Fashion chains' sequence and 'Climbing | Wall,' the poems do not experiment with poetic spacing as much as I would have expected. For such a beautifully radical critique of societal standards, I was expecting more blank space across the pages to be reclaimed and used, rather than the margins being conventionally left justified. However, it could be argued that this approach reflects our current cultural stance: we have demonstrated great potential in terms of gender equality, but society is still yet to achieve a complete utopia where no space is left unclaimed. Upon reflection, this reluctance to expand feels deliberate and very fitting for the collection's desired themes and message.
Ultimately, Leavesley's poetic talent is not one to be missed. An essential exploration of gender politics, this pamphlet is a spectacular, evocative read that inspires us towards a better world.
Orla Davey