All the Men I Never Married (Shortlisted, 2022 Forward Prize for Best Collection)
Tweet
Kim Moore
(Seren, 2021); pbk: £9.99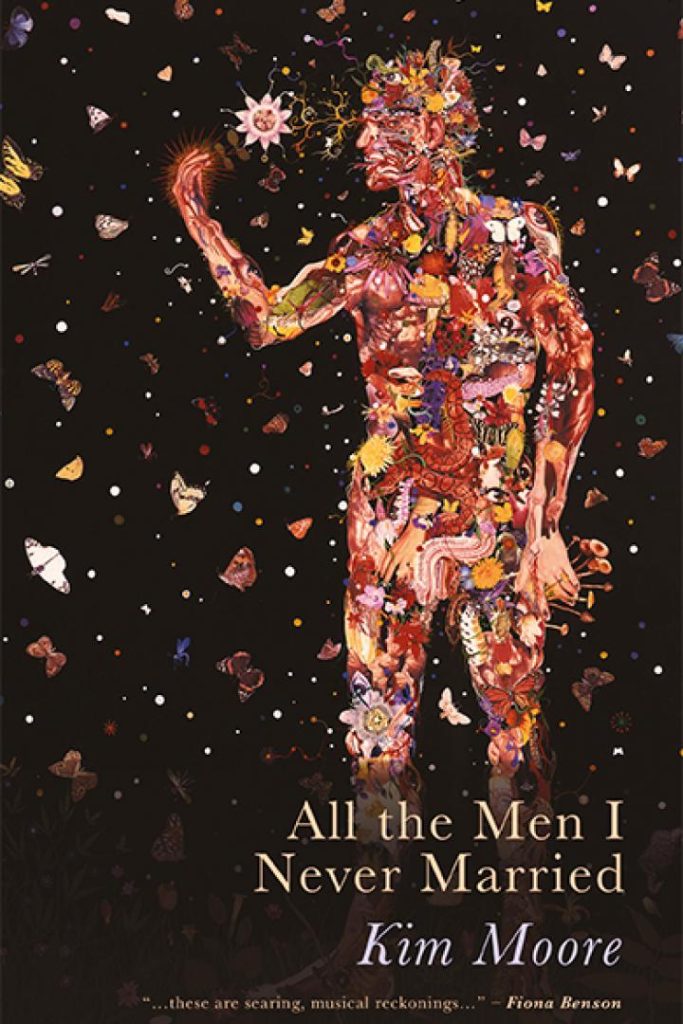 my arm flings open the door before I give it permission,
     my left leg finds the pavement before I can think.
     Still I turn back and give him a tip

     and he's laughing, saying relax, just relax, and I know
     that he knows I'm afraid, that I've been afraid all my life,
     but it's not this that makes me ashamed.

                                         (13. 'Although we've only just met.' )
None of the poems in this, Kim Moore's more recent collection, have formal titles. Numbers, yes, and the contents' list identifies them by their opening words. The acknowledgements credit sources as diverse as Hélène Cixous, Thomas Hardy, Adrienne Rich and Rainer Maria Rilke, but in the opening poem, 'We are coming', it's impossible not to see a baton already being passed from Sylvia Plath; soon after it's hard to avoid shades of Carol Ann Duffy's Red Riding Hood, or to hear Hilaire Belloc's 'waterfall of doom' building its inevitable force. The tributaries are indeed wide-ranging, which seems entirely in keeping with the complex and very painful issues Moore has the bravery to explore. Rarely has it been more important to read a poetry collection in the sequence the poet has ordered; there are no lines to be skimmed.

Sara Ahmed's epigraph, The past is magnified when it is no longer shrunk./ We make things bigger just by refusing to make things smaller', sets the tone of All the Men I Never Married precisely. Moore's narrative is needfully fragmented, yet it is seamless and essentially universal in its message. The cover notes that the collection 'is pointedly feminist, challenging and keenly aware of the contradictions and complexities of desire'. It describes a 'gallery of exes and significant others', so it is reasonable to expect a heavy weighting of rogues. They are out in force, but none of 'the easy misogyny' is that easy at all.
From the outset, the reader is well-alerted to the building of that misogyny, to the scenes which will involve dangers, gender-based abuses, vulnerabilities and the terrible tide that is both the poet's uniquely harrowing experience, but which also contains a palimpsest of women's more generalised experience. Domestic violence, rape, near escapes, and a hugely moving testament in 'The Deepfake Sonnets (No 31)' to fellow poet Helen Mort's horrific experiences.*

For me, what made this collection work harder than so many other really excellent, courageous writings which identify exploitation, which also stand in solidarity with women in sudden sobriety, perhaps escaping 'the weight of him' […] and the dark' (No.4) is that it dares to ask why? This is a work which certainly unveils the culture of victim-shaming and the stink of male-dominance, yet there is a particular strength in this collection's unflinching boldness which asks women the deeply uneasy questions…when have we been complicit? When have we not escaped, and when have we returned to dangers, even when others have offered ways out? Left at that, that would cement the problem, but Moore works to identify why. The worryingly remembered part-truth of 'And you are nor innocent, you're fifteen[…]It feels like power' (No 7) is held up to the light for scrutiny, which cannot always be comforting.
When 'I'm sent to the Wendy House to pretend//to be good' (No 21), and we trace the already-learned acceptance sweeping over the A-level student reporting a stalker to the police… his 'aren't you flattered?' rhymes with the deceptively easy chime of 'In the station there was laughter'.
I suggested there wasn't a line to be missed here, but in these shocking, and yet ultimately hopeful poems, there is not a space or comma wasted either. Moore the musician-poet has phrased and paced her detonations both formally and superbly.

Fiona Benson describes All the Men I Never Married as 'revolutionary and […]will be canonical'. Yes. It surely deserves to be.
Beth McDonough
* In 2020 Helen Mort's image was stolen and manipulated in 'deepfake' pornography. The poet has written extensively about her experience and has called for changes in the legislation which currently offers insufficient protection in the face of this evolving technological crime.