Don Quixote: Man of Clackmannanshire
Tweet
Dundee Rep Theatre and Perth Theatre
Sat 24 Sep – Sat 15 Oct, Dundee Rep Theatre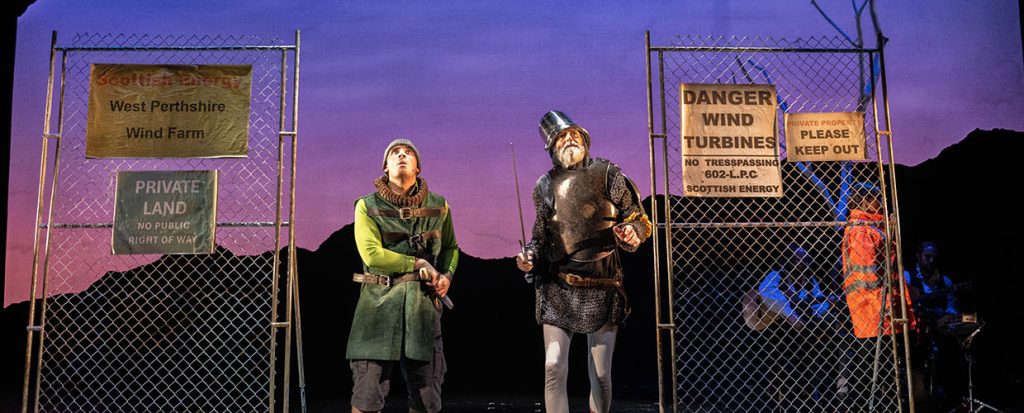 Don Quixote trades in his horse for a mobility scooter in this flamboyant and tender retelling from Dundee Rep Theatre and Perth Theatre written by Ben Lewis and directed by Lu Kemp. With wit, heart and a live musical accompaniment, Cervantes' metaphysical comedy becomes a thoughtful commentary on modern life, alienation, growing old and also the stories we tell ourselves.
Donald (Benny Young), an 87-year-old middle-class Scot who lives alone in the house his father built (literally) is sick of eating Shreddies in front of the television. Enlisting his great-nephew Sandy (Sean Connor) as his squire, Don digs out his old medieval re-enactment gear and sets off to restore the 'golden age' of chivalry to a world that has lost all sense of wonder and purpose. Along the way he'll be knighted by the Queen of Poundland, tilt at nanobot-dispensing windfarms and reckon with the meaning of heroism as the real world encroaches on the fantastical in a post-theatrical twist. But, with the help of his family and carers, can he defeat a social care needs assessment?
Don's adventures are accompanied by live flamenco guitar (played by Paddy Anderson and Pablo Dominguez) that, it is often implied, only he can hear. Interwoven with the lively original music are occasional motifs of recognisable songs (and a finale I won't spoil here). So, the music further blurs the boundaries between past and contemporary, and what is real and imagined.
The set design is artfully clever in its simplicity. The colourful backdrop of purple-streaked hills could evoke a Spanish sunset, or neon-soaked heather in modern-day Scotland. Set into the stage floor is a disc, with a blue crack ripping through its centre that could be a faded carpet or a river, but also put this reviewer in mind of a broken record, much like the tangled, oft-antiquated thoughts that repeat round Don's muddled mind. Against this backdrop, Don and his squire embark on an episodic adventure that takes them to traffic islands, Wetherspoons and windfarms. The cast members dance as they bring set pieces on and offstage, a flourish which keeps the pace rolling in a transition-heavy play but also helps call attention to the artifice of the production: we see the scaffolding of the world Don has constructed, as not the characters but the cast interact with the music.
The cast themselves are marvellous. Young as Don is surly, self-aggrandising and critical, but with an underlying vulnerability as he struggles with senility, loneliness and fears of a life wasted. Connor's havering Sandy is instantly endearing, with a youthful buoyancy to contrast Young's irritability, but no less depth as he ponders his own lacklustre present and uncertain future. Rounding out the cast are Irene Macdougall, Nicole Sawyerr and Emily Winter as the ensemble. Each is given a chance to shine, with Macdougall giving a particularly sinister performance at the show's climax. At times, they take on an aspect akin to the muses or a Greek chorus, or perhaps something closer to Macbeth's witches, as they challenge Don and the audience.
Questions are raised in this play. About class. About patriarchy. About the way we treat our elderly. About finding connection and purpose in an ever-changing modern world. About whose stories are (and are not) told, and how we tell them. About how to hold on to hope for the future when the present has failed to live up to all that was promised. That being said, the play never loses its sense of fun. Its emotional sincerity is a kernel at the centre of boundless humour and outrageous imagination. And all of it wrapped, of course, in an irrepressible flamenco score. This play will take you on a rollicking escape, all whilst asking: what are we escaping, and why?
Kai Durkin