Tweet
Sadie Maskery
(Alien Buddha Press, 2022); pbk £9.09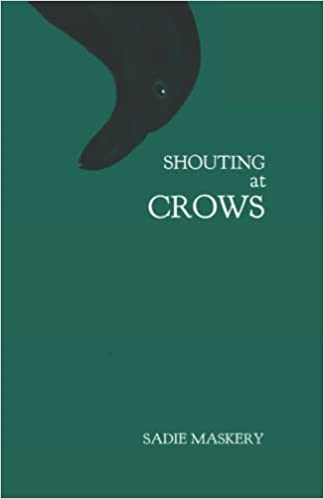 Introduced as 'poetry to read to the monsters under your bed,' Sadie Maskery's first full-length collection unearths magical tropes, blending imagination with scepticism. Her writing permeates the borders between dreams and reality, past and present, attachment and loss in ways that are both whimsical and haunting.
Maskery's poetry embraces concepts of fate and destiny. In 'Beginnings,' her exploration of predestination makes her narrators feel as though they are influenced by higher forces, disregarding the rationality of free will for a mystical wonderment at what cannot be understood:
a pause
in the celestial clock;
a tick of time suspended,
potentiality acknowledged[.]
Her narrator observes how 'the universe played this moment / to infinity before we were born', acknowledging the magic of chance encounters and the infinite possibilities they entertain – these immediate attachments are depicted as strong enough to transcend time itself.
However, Maskery's enchanting imagery also enhances inevitable, harsher aspects of reality, alternating between whimsicality and authenticity. A mother's grief over her child's death is explored in 'there is a beach,' where the narrator states:
we recognise
the features of our dead child
in the swirls of a discarded shell,
hear waves through its emptiness[.]
In beautifully harrowing symbolism, she seamlessly intermingles nature and human emotion to express the magnitude of grief; her ability to create such expressions from moments of emptiness exposes the narrator's innermost thoughts and contemplations with a plural 'we' that allows all readers to relate and empathise with this grief.
Grief and connections between generations are a recurring theme, profoundly displaying mother-daughter relationships and consequential maternal sacrifices, as shown in 'Generations':
I will take you on my shoulders
when you are older, and we will stride
the hills like giants through a fairytale[.]
However, Maskery is not afraid to express fears surrounding this intergenerational transmission, as in 'Suffer the Children' she observes:
A peerless population of ego
untethered by accrued wisdom
or compassion. We must pass
them the world like a shiny toy
as we fade away and see
how they play[.]
Maskery does not shy away from questioning and deconstructing the themes of destiny and fate that she initially promotes, showing a willingness to engage with the darkness of some of her chosen topics. Precise enjambment and lexical choice establish an ominous sense of foreboding, materialising trepidation about the future despite also embracing destiny as whimsical romanticisation. In 'Magic is,' she describes magic as 'a simpler version of reality,' diluting its magnitude in comparison to reality; by placing too much symbolic importance in other systems like corporations, humans have corrupted and overcomplicated their own environments, as is shown in 'Cubicle':
Today I will drink
lukewarm tea, try my luck
with airconned lies, polyester ties,
fumbles by the smoking pod[.]
Maskery's critique of corporate work culture shows how her poetry highlights real-world issues in addition to the nature of 'dreamscapes' that the blurb promotes. Seemingly mundane objects of everyday life are given imaginative qualities – fantastical, knightly imagery is invoked in 'Bad Coffee':
A billion futures layered, made a molten blade
of black damascus steel swindling, bitter edged
with blessed poison to be drunk to the dregs[.]
An ordinary drink is given dismal, apathetic characteristics, as the narrator with 'crusted eyes' consumes it to 'feel that pain / to know you are alive.' Maskery's language deftly shapes the atmosphere of each poem like a spell.
This masterful, poetic use of imagery makes it surprising when more colloquial terms and expletives emerge. The bluntness of her occasional colloquialism contrasts with the profound lyricism that carries most of the collection. Those disjunctures some readers may find a bit jarring but it does showcase the juxtapositions inherent to life as we know it.
Overall, this is a beautiful read, unafraid to exploit grief and limitations with a simultaneous attitude of imagination and wonderment.
Orla Davey