Jim Stewart: A Creative Memorial
Tweet
Their keening need
will fold its sound,
bred in the humid shells

they'll make ‒ to shift,
and free (peculiar as themselves)
new birds.
Jim Stewart,  from "Oystercatchers"
Before he died, Jim and I discussed the idea of having some kind of Memorial for him, based loosely around the poetics of the American Poet Joe Brainard and his "I remember…" pieces. I showed Jim a line I had come up with that would serve as a sort of introduction to students, staff and friends who could then write about Jim, or speak directly to him, in a lovely way, standing outside somewhere beautiful, we imagined, with trees and birds…  "Then we'll have everybody's pieces gathered together in an art work", I went on. "Merran Gunn (the painter and my sister)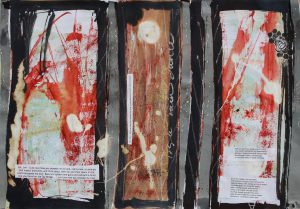 is planning something for you that could work in that way. How do you feel about this kind of idea, Jim?", I asked him. "We'd have an opening like: Oh, Jim, I just love how you showed me… students and friends, everybody could sort of finish the line for themselves?"
Jim liked the idea. We talked about how nice it was that the word "love" in the sentence stays in the present tense, while "showed me" spoke out of the things he had shown us, yes, in our day to day lives; also, underneath the past tense of that contained the larger past tense of his life that, by the time we had the Memorial, would have passed us by, Jim going quietly on his way…
How we miss him.
The Memorial was held on the 18th May 2017 and it was indeed somewhere lovely, in one of Jim's favourite places on Campus: the Geddes Gardens behind the Tower Extension Building where he and I had shared an office for nearly ten years. So many people stood up to read and remember, and the sun shone and, at the end, a pair of gulls flew overhead, straight out of one of Jim's poems.
The following selected art and text piece appears on DURA in a form suitable for the screen. In time, the full artwork will be displayed with the completed pieces of copy incorporated within it. In discussion with John and Peter, Jim's sons, and his sister and niece, Ros and Marilla, it has been decided that Merran will create a quartet of work so that each member of the family can have a section of it….
(Kirsty Gunn)

Oh Jim I just love how you showed me…
that there is a deep timeless rhythm to living and creating that flows in its own measure… (Fiona Cartmell)
that you might learn from me, whilst teaching  me so much… (Poppy Jarratt)
a smile, that it's okay to be myself… (Stephanie Smith)
a quotation, a question, an observation, an anecdote…Precious hours of intensity…We were blessed. I was blessed… (Jo Campbell Mackenzie)
what poetry could be…(Millie Graham)
great inspiration… (Fran and Peter Benison)
to look, really look, at animals and insects and birds , and think about them all and their place in the world alongside my own… (Kirsty Gunn)
that it could be fun to try and write a sonnet…(John Eagles)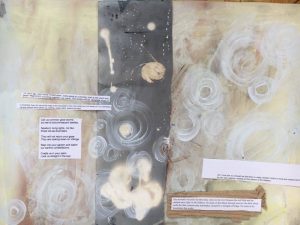 how, with your gentle, eye-twinkling humour, you teased when I got things wrong, reminding me life and literature should not be taken too seriously. I just loved that, with your stock phrase of "let's think about this", you taught me to slow down, reflect quietly and appreciate the nuances… (part-time mature student)
that poetry could revive and restore one's faith in humanity and resonate beyond borders and boundaries… (Bashabi Fraser)
that one winter evening towards the end of the twentieth century, your old house among the trees… you showed me with quiet, half-ironic pride bookshelves newly constructed from bricks and planks, heavily laden with books… (Andrew Roberts)
your way to look at literature, drawing attention to the beauty of the rhythms in Woolf's writing – and the beauty of the world itself…(Robert Middlemiss)
to question the question, that answers are never the answer, that writing exists beyond time and intent. That there are answers in questions and questions in answers and answers to questions that no one has asked and questions with answers that no one will answer and there's nothing that cannot be questioned and always the answer is… (Lindsay Macgregor)
that studying literature could be fun… there was always a  lot of laughing in your classes… (Kenneth Austin)
how you didn't have to be loud to be heard… (Christina Miller)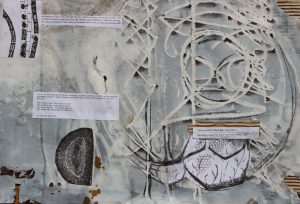 how to make someone feel at ease…you knew you could just be yourself and you would be happy because you felt he considered you his friend… (Jenny Elliot)
the smallest details in life that would often be overlooked. Every time we went out together you would quietly point out tiny aspects of nature… (Katherine Graham)
to open my eyes to see the world in a new, exciting and beautiful way… (Courtney Inglis)
that patience, empathy and kindness abounded, and won the day, when you were around. You influenced me more than I ever told you; you still do… (Edward Small)
Oh, Jim, I just love how you always nurtured our explorations without ever indulging our delusions…(Cameron Rathie)
Oh, Jim, I just love the way your words invited mine: 'Come along on a journey, look at the world and grow'… Goodbye, teacher, poet, friend… (Annika Firmenich)

Poetry hyperlinks… 
"Glow worms" by Jacqueline Thompson
"Sam – a chanter" by Edward Small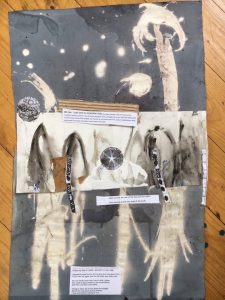 "A man in black" by Xinyi Jiang
"Why the man wears black" by Andy Jackson
"Dundee's Bard" by Bashabi Fraser
"Hello Boy" by Rosalind Flodgell

Letters, Memories and Eulogies hyperlinks
Whatever else may perish and disappear, what lies here is steadfast. Here one might say to those sliding lights, those fumbling airs that breathe and bend over the bed itself, here you can neither touch nor destroy.

(Virginia Woolf)