Tweet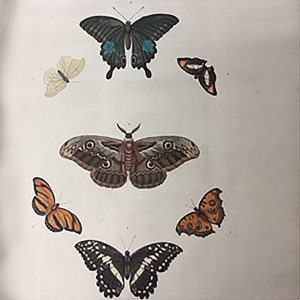 Passing over the delicate blooms, looking radiant in its flight, the blue  monarch lands on a honeysuckle, the air filled by the aroma. Serene, it pauses for a moment before it flutters again.
Undecided, it glides onto another bloom, this time a rose. The rose – ivory and silky disguises an ominous secret. Looking angelic, it is a devil with its thorns. Le papillon fancies a different arbour.
Der Schmetterling discerns a magnolia. Another demon lies in wait. Ensnarement! The lepidopterist's joy augments the prey's doom.
A glass cabinet In Perpetuum.
© Christine B. Hodghton
From A Cabinet of Curiosities: Reimagining Rare Books. A disparate trove of pieces created by students of Writing Practice and Study, inspired by their work with the Rare Book Collection in the University of Dundee Archives. See the collection on DURA now.