A Cabinet of Curiosities: Reimagining Rare Books
Tweet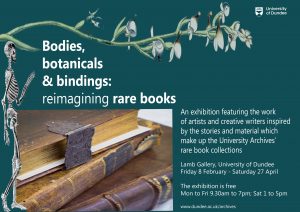 Utilising the Rare Books Collection and the manuscripts held in the Archive Collections (University of Dundee), this trove of disparate pieces is a fine example of the different ways that creative writers find answers to a common challenge. Fragments of ancient text with wonderfully obsolescent language, books on anatomy with archaic text and exquisite artwork, tomes on natural history – animal or plant life – all of these and more provided inspiration for the pieces gathered on these pages on DURA. Working with the Rare Book Collection, including those belonging to the Brechin Collection (10,000 books and manuscripts on permanent loan from the Episcopal Diocese of Brechin) evokes feelings of awe and wonderment. Measured by the sheer diversity and quality of our Writing Practice and Study students' work, these volumes patently inspire excellent writing. Later in the spring, a fine art word-and-image chapbook containing different pieces, Vaulted Marvels, will be published by The Voyage Out Press – a result of collaborations between our creative writing students and student illustrators from the Duncan of Jordanstone College of Art & Design. We hope that this will be the first of many!
In the meantime, take a look at our creative re-imagining of the Rare Books collection by hovering over and clicking an image. Worth reading for the sheer diversity of offer and the insight into the workings of creative minds, this cabinet of curiosities is compelling and gorgeous!
Edward Small
​
Donations can be made to support the project via Paypal: https://www.paypal.me/vaultedmarvels. Money donated will be used to pay for book binding.