Tweet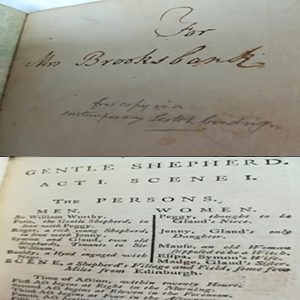 Dear Mrs Brooksbank,
You would be pleased to know that Allan Ramsay's reputation endures.  His poetry is remembered on the wall of Greyfriars Kirk; his face gazes out fondly across Princes Street at pilgrims journeying through this city on their cultural quests.
What was your connection to him? Were you, like him, a Stuart sympathiser.  Or a lover of Scottish song?  When he dared to stage The Gentle Shepherdat the Canongate Theatre, were you there, laughing and applauding his rebellious streak?  Was his creative talent like a breath of fresh air to you and your friends?  Did your heart sing, Mrs Brooksbank?
You might have only dreamt of going to the theatre as you ran your hand over the elegant surface of this sleek little book.   Was this jewelled edition purchased in Mr Ramsay's bookshop or was it a gift?  I know that you recognised instantly the quality of the modern herringbone binding and the beauty of the gilt embossed endpapers.  Certainly, you never doubted for a moment that this was a treasure to be cherished. Perhaps it was Mr Ramsay who wrote your name in bold cursive script inside the cover, immortalising you forever in the dark, glistening stroke of his pen?  Much later, after your death, someone has added the words fine copy in a contemporary Scotch binding. But you knew that, didn't you, Mrs Brooksbank? You knew that didn't you?
© Sue Whisler
From A Cabinet of Curiosities: Reimagining Rare Books. A disparate trove of pieces created by students of Writing Practice and Study, inspired by their work with the Rare Book Collection in the University of Dundee Archives. See the collection on DURA now.