Tweet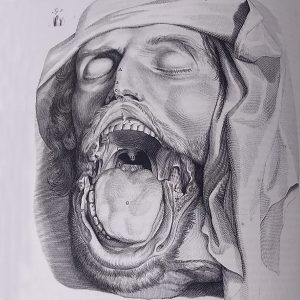 A fine anatomical agony:
Mouth wide open
portcullis-like
Tongue, teeth, tonsils hang
Eyes closed
like smooth marble stones
It's all in the head.
Shriek. Skelloch.
Der Shrei der Natur.
The Scream of Nature.
Skrik.
('Skrik' is Norwegian for Shriek)
© Loretta Mullholland
From A Cabinet of Curiosities: Reimagining Rare Books. A disparate trove of pieces created by students of Writing Practice and Study, inspired by their work with the Rare Book Collection in the University of Dundee Archives. See the collection on DURA now.