Tweet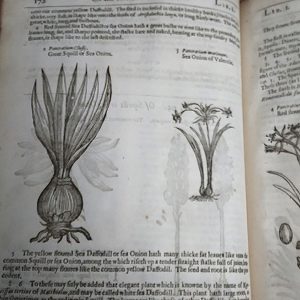 It's not the pen and ink drawing of the Sea Onion that interests me so much as the word squill. Squill sounds like a portmanteau word made from fusing together parts of existing words. Like "brunch" or "labradoodle".  My lips form into a petulant pout when I say it aloud and the blend of squidand quilllingers in my ears like a vibrating trill.  Squill.  I say it again and picture Scylla perched on the narrow rocks opposite the whirlpool of Charbybdis.  Scylla with her twelve tentacle-like legs and hermit crab body, with six serpent-like necks and grisly heads with their three sharp rows of teeth.
The long strap-like leaves of a Sea Onion look like a squid's tentacles. Quills are made from large bird feathers. If I were to invent a meaning it for squill it might be
Squill
n.
a mythical aquatic creature, part marine mollusk and part bird with a torpedo-shaped body, a flattened head, a beak-like mouth, and three types of hollow tentacles: a) stiff and long like porcupine spines b) short and textured like rolled cinnamon bark c)fleshy, flexible and retractable.
© Jane Swanson
From A Cabinet of Curiosities: Reimagining Rare Books. A disparate trove of pieces created by students of Writing Practice and Study, inspired by their work with the Rare Book Collection in the University of Dundee Archives. See the collection on DURA now.