Tweet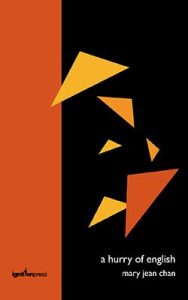 Mary Jean Chan has shown that being a celebrated poet with many accolades does not require the publication of a full collection. Chan is noted for her work in anthologies and competitions by many respected organisations such as The National Poetry Competition for which she secured second place in 2017. In the same year, she was also shortlisted for Best Single Poem in the Forward Prize.
In her first pamphlet, a hurry of english, Chan presents a deeply personal narration of her grappling with Chinese and British culture, sexuality and self. At first glance, the title and Chan's name make it easy to assume what might lie within: difficulties with language and understanding. While those issues are present, the poems offer much more.
The opening poem 'Always' acts as a synopsis of sorts to the themes and motifs that readers will pick up in the rest of the collection. We understand much of Chan's personal life in this first piece and get a sense of her style. Her approach is direct, and she blends unambiguous messages with pointed imagery and poetic skill:
                Always the mind's eye tracing
                your frantic footsteps […]
                Always the lips wishing
                they could kiss those mouths
                you would approve of.
'Always' is loaded with a tension, a twinge of pain and yearning that carries throughout. Strategic repetition of the word 'always' suggests that these anxieties remain in the poet's life and works.
Chan must be commended for her unapologetic approach when navigating difficult issues with her mother. Her mother looms in a hurry of English and Chan's use of the 'you' pronoun works on multiple levels. As a reading experience, 'you' are her mother, 'you' are her lover, 'you' are someone dealing with queerness. But most importantly 'you' are Chan. Poems like 'Dress' feel like a note           from the poet Chan to a younger Chan: 'Each time you wore that suit you shut your body up […] You dream. A voice whispers Hell is not other people. You slip into the water […]'.
Chan takes her emotions and experiences and phrases them in ways that linger in the mind, as for example, in 'Practice': '[…] Just as often, I would feel yellow/ blooms of ache […] I would head back home with a deepening/ sense of dread, my bruises fading to quiet.' For her poetry to resonate with readers, Chan's imagery must inhabit the real world, and her images, while beautiful and thought-provoking, are not adorned with fanciful motifs.
a hurry of english is littered with lines that hold the reader's attention and makes them think of familiar feelings in novel ways. I found myself revisiting lines such as: 'your voice is a cleft wing and the sky/ is all echo […]' or 'What curvature of tongue might you taste, as if another's breath were blessing?'
The majority of the Chan's poems here are conventional in structure and typography, but 'what my mother (a poet) might say' provides an interesting variation which plays with what is said and what is left unsaid. By using strikethroughs and italics in her lines, Chan conveys the bilingual parts of her background. Like 'Always', this poem is freighted with the intricacies of Chan's relationship with her mother. The poem consists of lines that her mother might say but instead opts for a single refrain:
             that Mao wrote beautiful Chinese calligraphy

that she wants to devour me back into herself
that I would be ci sin to love another woman

             that Mao wrote beautiful Chinese calligraphy
a hurry of english is a painfully personal account of the poet's navigation through hybrid culture and relationships. The poet delivers these accounts through her unfiltered verses which remain quietly powerful. Chan's talent for arranging her images and phrases is what makes you glad you picked up her pamphlet, but her unique voice makes you stay. Chan's debut collection Flèche will be published by Faber & Faber in July 2019.