a mastery of english: a conversation with Mary Jean Chan
Tweet
Tourists visit St Andrews for three main reasons; it's the home of golf, the grounds of the renowned University where Prince Harry met Kate, and the StAnza international poetry festival in March, which bring poetry paramours to St Andrews' historical streets.
I reviewed Mary Jean Chan's debut pamphlet, a hurry of english, some time ago for DURA; I also looked at her YouTube interviews in preparation for this interview But while you think you know someone virtually through their work and on social media, nothing quite prepares you for the anxiety of meeting someone you admire in the flesh. I felt like a doting fan babbling cycles  of nice to finally meet you – I really enjoyed your work – I can't wait to chat later – thank you for your time.
At Chan and Jassat's StAnza 'Border Crossing' reading,  their poetry touched on themes that many writers of colour experience: identity, culture and racial issues. I'd heard Chan speak about and read her work but only as a disembodied virtual presence. Even then, you could see from the way that she let her words land,  from the hand gestures that punctuate her sentences, and from how she proclaimed her poetry like a sermon, she is comfortable as an orator.
We meet at Byre theatre. The place is humming with activity, events starting and finishing. I sit with a coffee near a grand-piano. I prepare myself; notes, questions, recorder and a copy of Chan's pamphlet. Then I hear a call from above. Apologetically, Chan shouts that she'll be down in a minute… almost like a child calling down to a parent waiting at a table set for dinner. Moments later she greets me with a warm smile. I know that she's already given one interview so I assure her this will be rather informal. Born in Hong Kong, Chan moved to the U.S. aged eighteen to study at Swarthmore as a major in Political Science where English classes were few and only electives to the main degree programme. She explains that she had studied poetry in high school at a formative level reading  canonical poets such as Hughes, Elliot and Plath. But these weren't voices she could relate to. The beginnings of Chan's relationship with poetry might ring true for many of us:
It wasn't until I went to the U.S. and encountered the works of Adrienne Rich that, for multiple reasons, it spoke to me. That was when I realised, I could write as well. Apart from just being a reader and appreciating poetry, I could participate in this.
It took a few changes in courses and, later, Chan's enrolment into a Master's in Creative Writing in London before her writing came into its own. She claims to have been only 'writing properly' since 2011.
As we both ease into the flow of the interview, the Byre becomes busier and the cacophony of conversation builds around us. Chan is unfazed;  she talks very clearly about her love of poetry and, although she has expanded into other forms of writing (including essays), poetry remains close to her heart. She explains why: 'There's something about the way it works, at the level of the poetic line, and I've never been great at plot. A poem feels more like a snapshot.'
I probe her further about her relationship with poetry, referring to something in her Swarthmore Teds Talk, how when in the early days, she felt poetry  inaccessible and abstract. She recounts the importance of lived experiences and how the poetry she read did not reflect her. The English poets she mentioned earlier were writing about things that that a youngster in Hong Kong couldn't identify with. But when she first arrived in the UK, she was exposed to a wide variety of British writing that didn't conform to the quintessentially British images. 'That you could write about your lived experience in the world was quite important to me.'
Despite her relatively short career as a poet, Chan has several accolades to her name and a string of long and shortlistings, all before the release of a full collection. As I list her achievements, Chan smiles sheepishly. I ask if those achievements still come as a surprise to her or if she is gradually now accustomed to them.
'I remember a time when there was nothing but rejections,' she recalls. 'Then there were a few long-listings, then short listings. It was really rewarding and affirming because you feel there's been an improvement, that people might be finding certain poems stronger than others. But there have been plenty of silences'. If Chan was fazed by being a reader at sell-out events and her several commendations, she masks it well. She tells me that the short and long-listings, and the prizes are all added bonuses. Submitting to publications was her way of exercising self-discipline, to give her 'deadlines to work towards and stay involved.'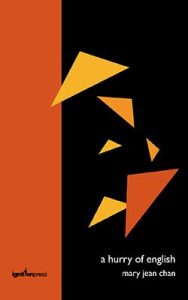 Her pamphlet, a hurry of english, reads as if written by someone who writes for the pleasure of writing for themselves. Chan is a poet who uses her craft to navigate and understand issues in her life. I raise this with her, and she replies amiably, finding the question intriguing but countering with another. 'Is there ever an impersonal poetic or is it possible to write from a completely detached position? And is that even desirable?' she muses.
Her answer comes from her positioning as a poet of colour and she feels that, as such, there are certain expectations that come with being BAME that do not extend to white writers. She explains, 'People tend to associate what you write with your racial background or lived experience, but are less inclined to do so with white writers.' She gives the example of herself as a Hong Kong, Chinese person in comparison to a white Londoner and states that being the latter is as much as an identity as hers. For some reason a non-white identity is exoticised and seen as more interesting despite the former being as individual and as valid as being an ethnic minority. Chan firmly rejects the idea of writing from a completely impersonal position:
The personal is always present because it's a writer writing. Obviously, you can distinguish the lyric 'I' and what people call confessional poetry versus some poetry that is written from a different perspective or is more experimental, hence the 'I' is not immediately evident. Those are all strategies that all poets play with and use. I don't think any poet should feel the need to subscribe to one or the other.
We ponder further the connective literary tissue between us as BAME writers. I wonder if Chan has ever been expected to write about her identity in particular ways. My question refers to what many BAME writers have experienced: a questioning of authenticity. I've heard writers being told that their work isn't very 'authentic', whether that be making it 'more Chinese' or 'more Indian'. Has Chan herself experienced this?
Not exactly, but she has faced versions of that with people asking: 'Do you write in Chinese? Can you read a Chinese poem? Why don't you write in Chinese?' She considers these subtle ways of conveying the same expectations, Why isn't your Chinese-ness being performed? She feels that, 'it's something a lot of poets of colour have to contend with. From my perspective, I would tell that person: "There's no one way of being Chinese. There isn't this undiluted, pure essence that we as Chinese people have."'
To counter this by flipping the question back to her. If those things inherent to your identity are absent from your work, then others might ask, Why is that not in your work? Why aren't you writing about us? Chan has never withheld the 'racial markers' from her work or omitted anything about her being Chinese. To do so seems absurd to her, because she writes through her own very personal lens. The discussion returns to the comparison between BAME and white writers. Chan, looking focussed, explains:
If you're a white poet, for example, then you have never had trouble being taken seriously.      You've never had to fight to be heard so evidently it doesn't matter if your voice is present on the page. I think for minorities, speaking from a queer position myself, that voice isn't    allowed to speak. Then to me it's important to speak from that position.
Rallying back and forth, I counter again, asking if there is a sense of duty to represent those marginalised voices. She pauses a moment, staring at the table, pondering. She admits that it's a trickier issue for the fear of essentialism. The idea that someone from a particular group represents the group doesn't sit well with her. Since there are so few voices though, she confesses that any additional voice is good.
I am aware of time passing and have yet to talk about Chan's own work and move the conversation on to a hurry of english. The pamphlet  struck me as a painfully personal account of Chan's navigation through hybrid culture and relationships. As a bilingual poet Chan works closely with translations. Being bilingual can offer new expressions, unique reference points and add layers to writing. I ask Chan how working with Chinese and English-language poetry informs her own practice. Throughout the interview, I can't help but think of parallels between us, and now we have something else in common – our use of another language which is set alongside our work in English.
For Chan, drawing from her native language wasn't always conscious. To begin with she would abstain from using it, feeling that English was what she had to have a mastery over. She speaks at length about this and I notice a recurring theme in her experience: the legitimacy of being English and the privileges it affords over other identities and languages. For the longest time Chan felt that to be taken seriously and heard as a poet, her English had to be perfect. You only need to hear her read for this to be evident. Recently, Chan has been returning to Chinese and even includes its characters alongside English words to illustrate to monolingual English readers the difficulties of learning their language.
I'm potentially going back to that [Chinese poetry] and seeing how the two can intermingle. I think I do it now on a linguistic level, I play with words, rhyming Cantonese with English or, I have a poem in my collection where there are Chinese characters inserted into a prose poem, but I don't explain them. So, monolingual readers encounter that poem as an erasure poem. Those characters would be like blanks that they wouldn't be able to comprehend. That's my offering to the reader. What do you do when you encounter a language you don't speak? Just as I've had to master English.
At this point, I break from the Q&A format and request, rather embarrassingly, that Chan to read 'Dress' from her pamphlet. In the din of the Byre theatre cafe, Chan is surprised but agrees graciously. Despite the noise, the power of her voice, which remains at a conversational volume, is as moving as it had been earlier.
The poem, Chan explains, started in a poetry workshop. She didn't know what it was to be ‒ a prose poem, an essay, or something else. She only had the image of the fencing uniform she wore as a youngster. 'Dress' is an example of Chan's use of the second person. It seems to me that the 'you' in this poem is Chan writing back to a younger self, speaking to the reader, or addressing someone close to her. I ask her about this and whether in poems like 'Dear Fantasy Mother' she strives to talk to various people in her life through the vehicle of poetry.
She admits that that desire is there. She quotes Rebecca Song and claims: 'Writing is something you could never say to someone but in a way, you're writing it to everyone because that feels more civil.' This and her encounters with Claudia Rankine's Citizen where the use of 'you' appealed to her. 'I found that strategy very empowering because it felt like it could do so many things at once. It could implicate the reader. It could implicate the speaker.'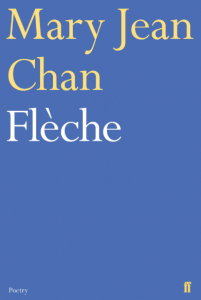 I realise we have talked for almost an hour which is all the time Chan has allotted me. I swiftly move on and ask about Flèche, her upcoming collection, and how it came to be. She says,
Flèche is a book that I wanted to frame through the frame of fencing. The title initially wasn't obvious to me and it wasn't until I was reading through that this word jumped out at me. It acoustically felt right because the English word "flesh" is something I explore a lot. The vulnerability of the flesh and the desire to protect yourself from the world.
Chan admits her defensive nature, stating, 'There's a sense of also wanting to assert oneself. I think there's always that duality for me and hopefully the book conveys a bit of that. Hopefully it traces the beginning of a defensive position and ending up in a more empowered place'.
Comparing the Chan that I met on YouTube to the poet in front of me, I would have to agree with this more assertive and also defensive tone when she contends with the issues that drive her work. Chan's is a 'quiet revolution'. Quiet revolution or 'quietly powerful' – as I say in my review – is exactly what comes to mind when reading and hearing Chan read her work. There is an empowering conviction to her words and the way she articulates herself even in something as simple as a conversation over coffee.