Tweet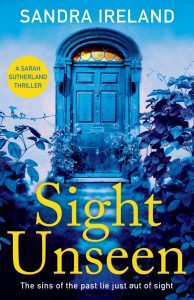 Critically acclaimed as 'the queen of Scottish folklore-inspired domestic noir', Sandra Ireland's oeuvre boasts three successful thrillers that all open with haunting epitaphs and disturbing prologues. However, Ireland's new novel, Sight Unseen, is lighter. Narrated in alternating chapters, Sarah Sutherland in first person and her elderly father, John, in third person, we are immersed in Sarah's inner world but are also able to gain a much deeper sense of her strength and vulnerability through the eyes of her father. Short snappy chapters divide their opposing points of view; snatched on-line conversations that Sarah has with Hannah, her elusive daughter travelling across Thailand on a gap year, are threaded throughout. In this way, Ireland slowly reveals complexities.
The tone in the opening chapter is conversational as we enter Sarah's world: 'I don't know about you, but if things aren't right I find it impossible to think straight.' We sympathise as she wrestles with imposter syndrome, preparing to reprimand maverick employee, Grant Tranter, for playing forklift-scooter, 'cocky grin… already in place.' Grant's response to his final warning is insolent: 'As for your written warning […] you can stick it up your arse', he retorts, rendering Sarah speechless. As the protagonist of the book, Sarah is a stark contrast to Ireland's customary protagonists of questionable morals and hidden motives who, like red wine, are an acquired taste.
The lighter, comedic style of this new book is a distinct step away from the dark intensity of her earlier work; this may concern Ireland's established readership, but they need not worry for Ireland demonstrates her unwavering penchant for gothic fiction through the eyes of Sarah's father. Ireland entices the reader in, making them work to solve the mystery, and compelling them to consider the nuances between truth and reality. John, reluctant to reveal the fearful visitations that he experiences on a daily basis, vehemently denies  that he is developing dementia, but Sarah is concerned; she observes, 'I'm anxious about the muddle on the dining table and the muddle in his mind.'
Yet there is another side to Sarah. At night time, dressed in black, Sarah leads tourists through the cobbled streets of Kilgour, recounting the tale of Alie Gowdie, a young woman executed in 1648 for witchcraft, a woman with whom Sarah shares an affinity. She is the dark beauty that Ireland evokes poetically, 'when I get into costume, I am no longer me. Or perhaps I am a version of me that is deeply buried. I am fearless. I am an avenger […]'. When Sarah's friend Charlotte, manager of the towns Tollbooth museum, invites her to read an old leather-bound book recently discovered in the attic of the old manse, she learns just how close that link is.  Reluctantly drawing on the help of her nemesis, Grant Tranter, Sarah struggles to solve the sinister riddle of an old nursery rhyme, avoiding the distractions of family life, and her notably absent daughter.
Sight Unseen is the first book in a trilogy of crime thrillers which fuses Ireland's Gothic signature style and use of medieval symbolism―the ever-present crow and the Hag Stone talisman―in a dark comedy with affable characters, with Sarah Sutherland at the helm. Despite their differences, and whether she likes it not, Sarah's ever evolving relationship with Grant may well see him follow her into the next mystery. Nevertheless, as always, Ireland raises complex issues, the central motif at the heart of this novel being the persecution of women and children explored through themes of love, family, mental illness and abuse (among others).
On witches, Ireland writes: 'Alie Gowdie is an amalgam of several 'witches' from various parts of Scotland. She is an every-witch. My humble attempt to give a face to the faceless and a voice to those who need to be heard.'