Tweet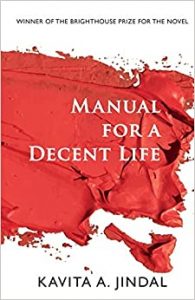 Manual for a Decent Life is Kavita Jindal's debut novel and winner of the 2018 Brighthorse Prize. Jindal is a founder member of the Asian women's writing collective, The Full Kahani (in English, The Whole Story), which produced May We Borrow Your Country?, a collection of poetry and short stories, published in 2019 by Linen Press. This novel is set in late 1990s in Uttar Pradesh in India, with most of the narrative moving between Nazulkim, a regional town and the country's capital, Delhi.
Waheeda Rela is the daughter of a locally prominent politician whose two sons were assassinated by political opponents. Waheeda's position as the only remaining sibling provides the opportunity for her father to train her to run for local elections. The family is Muslim and their party, the NFP, is a minority party in the region.  Meanwhile, Waheeda's marriage to Nasif, is in jeopardy. He is disaffected by the urban environment and has retreated to the mountain village of Theog, to become an artist. Love for their daughter still binds them together, although Waheeda regrets the estrangement more than her husband. She throws herself into politics – and a passionate affair with a young Hindu businessman – as a way of avoiding confrontation and admitting fully the separation to herself.
The story describes the deeply constraining traditional and patriarchal values that dominate the characters' lives. Waheeda dare not allow her affair to become publicly known. It would signal absolute disgrace politically and ruin her family's reputation. Her lover, Monish, is also under scrutiny by his family and friends when he eschews his previous 'playboy' lifestyle to embark on the secret relationship with Waheeda.
One of the novel's main strengths is that it describes succinctly the party-political system of 1990s India, without going into complicated detail, and showing rather than telling how their values impinge on its protagonists. Manual for a Decent Life also illustrates the constraints and threats to anyone involved in Indian politics during this period. One can only suspect that the polarisations between political parties since the time of the novel have become even wider (and more dangerous) in contemporary India.
In offering the reader a view of a particular slice of Indian society – the wealthy business and political classes – Jindal depicts a claustrophobic matrix of family and friends who seem to have little notion of their respective relatives' right to privacy. This gossip-factory keeps the narrative moving along towards the shocking denouement; many of the lesser characters display a nightmarish level of curiosity and entitlement that I would imagine would be unacceptable to most contemporary metropolitan readers.
It would be difficult to describe this novel as a piece of truly postcolonial literature, since it refuses to contextualise its narrative or its characters as reacting to a colonial past. In this, I found the approach of the author quite daring, and I admire her courage in presenting her work to an audience that will immediately comprehend the cultural context.
While it may be hard for Scottish women to fully understand the pressures on young Asians to marry and provide grandchildren especially in a different context, Manual for a Decent Life questions what might be understood in conservative Indian families as 'decent', but it also depicts a brave woman's struggle to define herself within these limits.